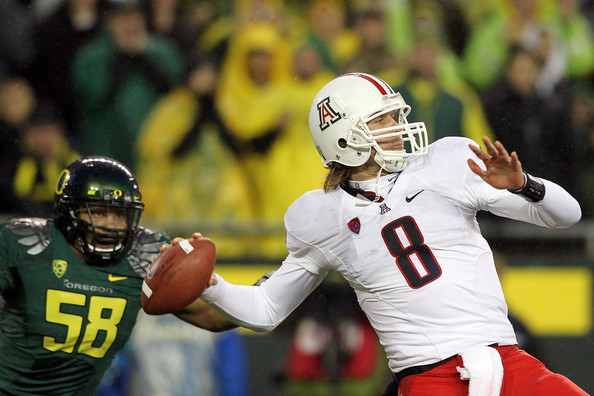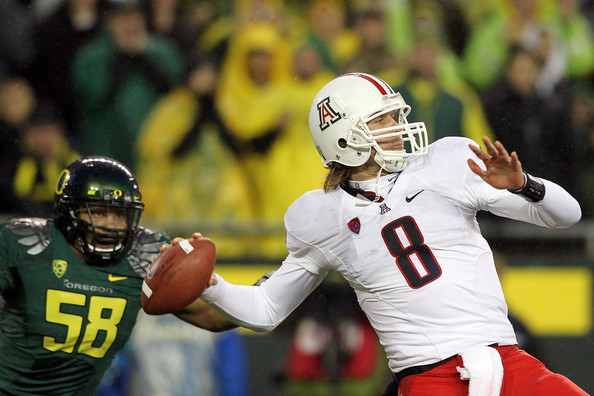 The Eagles didn't surprise anybody by drafting defense with their first three picks in the first and second rounds. However, some may have been surprised by the drafting of a quarterback in the third round and the Eagles rounding out the draft with four straight offensive picks.
The Eagles drafted a 6'5" quarterback from Arizona with the 25th pick in the third round. Nick Foles would have been the tallest quarterback in almost any draft class that didn't have Brock Osweiler in it. His height, as told by Foles himself, helps him to see over the offensive line and have a better view of the field. His 243 pound frame also lets him shrug off some hits and still deliver a good throw under pressure.
It is hard to dissect film of a quarterback when he has such poor protection and is under pressure on nearly every pass. Foles had a lot of Ben Roethlisberger-type plays where he was able to deliver a check-down with a defender wrapped around his legs. He even switched hands many times and was able to deliver a strong, left-handed pass to his short receiver. It is evident that Foles is nearly perfect on his short and intermediate passes. He also has a very strong arm but struggles greatly with his deep pass accuracy.
In Arizona's spread offense, Foles almost never lined up under center, something he will need to work on to make a career in the NFL. His experience in running a no-huddle offense and calling plays from the line will help the Arizona quarterback in his transition to the league. Being in the shotgun makes it clear that footwork and mobility aren't on Foles' list of positives. Eagles coaches never have trouble with improving quarterbacks in their system.
Foles will come into camp and make Trent Edwards and Mike Kafka, who is entering his third year in the system, compete for a spot. It is likely that your opening day depth chart might look something like Michael Vick, Mike Kafka, and Nick Foles. Don't expect the confident Foles to settle for a third spot on the depth chart, though.
[media id=264 width=320 height=240]
The Eagles next pick may have been a bit of a stretch. With many 7th round-undrafted grades, Dennis Kelly, the Eagles fifth round pick, fills the need for depth on the offensive line, specifically at tackle. Kelly looks to have an Evan Mathis-type body, then you read that he actually stands 6'8, three inches taller than Mathis. The 37-game starter at Purdue may very well be Howard Mudd's next project.
Following Kelly, the Eagles made a tall wide receiver the newest Philadelphia Eagle. Marvin McNutt, the 6'3 (some say 6'4), 216 pound Iowa product provided great value in the sixth round. McNutt, projected as a fifth-round pick, at the latest, filled both the Eagles need of a big wide receiver and the new philosophy of taking the best player available.
The big receiver ran a 4.49 40-yard dash at the combine, unimpressive to some, but showed on tape that he plays much faster. In his career at Iowa, the All-Big Ten receiver accumulated 2,861 yards and 28 touchdowns, both records in the program. While at Iowa, McNutt dominated nearly every defense he faced and showed that his field vision is elite in the college game and he has no trouble getting open.
The St. Louis native uses his big body to gain an advantage when adjusting for the ball. Over the middle, McNutt has questionable hands, which still gives the Eagles questions at who their receiver will be down the seam.
[media id=265 width=320 height=240]
Brandon Washigton of Miami was the Eagles second pick in the sixth round. The guard, projected by some as a second or third round pick and a player appearing on many top 100 boards, was drafted 200th overall and adds depth to the Eagles offensive line. At 6'3 and 320 pounds, Washington, who showed athleticism playing both guard and tackle in college, will be another project for the evil genius that is Howard Mudd.
Finally, the Eagles ended their draft with their fourth consecutive offensive draftee, a Kansas State running back by the name of Bryce Brown. Brown seems to come with some baggage. He transferred out of Tennessee after his freshman season, took a year off, then carried the ball just three times for Kansas State in 2011 before declaring for the draft. At 6' and 223 pounds, the "Asante Samuel pick" provides the Eagles with a physical runner.
Brown was one of the top recruits coming out of high school, behind only Trent Richardson in the running back category. He received offers from Tennessee (attended), Kansas State (transferred), LSU, Miami, and USC, among others. He never lived up to his five-star recruit status at the collegiate level so the Eagles will look to bring that back out of him.
[media id=266 width=320 height=240]
With the 2012 Eagles Draft in the books, prospects for next season look promising. The Eagles may look to add another running back or two, probably veterans, to provide competition in training camp behind Dion Lewis, a fifth round pick a year ago, and Brown, this year's seventh round pick.
The defensive draft picks might have more promise and more excitement, but a possible future starting quarterback and potential game-breaking wide receiver certainly make the offensive draft picks something to look forward to.