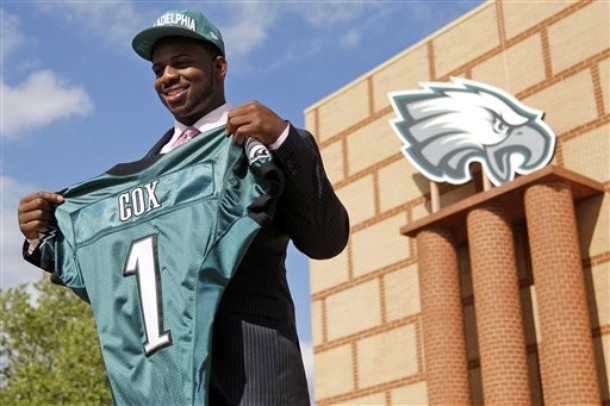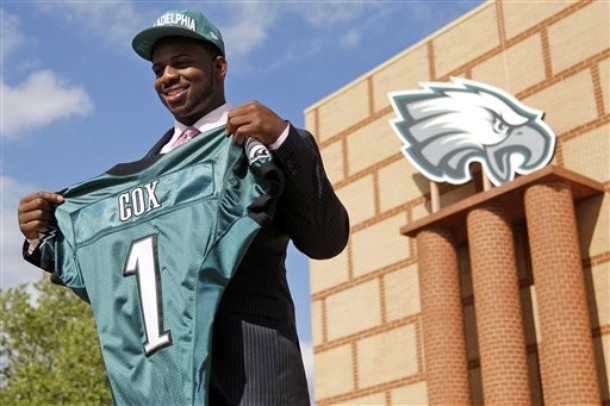 Although it's much too early to issue any type of grade for a draft, I can't escape the tradition.  No one will really know what type of draft the Eagles had this past weekend for about two or three years, but I'll give you what it looks like now.
Let's start at the beginning with Fletcher Cox.  This was a dream come true for the Birds.  I didn't think they were going to get a shot at Cox and neither did they.
He plays like he was coached by Jim Washburn in college.  Cox is off at any ball movement.  The big fella attacks and reads the play later.  Cox destroys everything that's put in his path.  I can see him being the perfect inside pass rush for Jason Babin and Trent Cole, while playing opposite of Cullen Jenkins.
There wasn't a player in this draft, who the Eagles wanted more than Fletcher Cox.
[media id=260 width=320 height=240]
In the second round, Cal's Mychal Kendricks was a good pick, but I'm not thrilled to hear that they want him to play SAM linebacker and cover the tight end.  Kendricks would be much more effective at WILL where he would be lined up away from the tight end.
He was the fastest linebacker in this draft and he's a very good tackler.  This Cal Bear seems to play his best football when he attacking and playing downhill.  You don't get the chance to attack very much at SAM.
A SAM backer needs to be taller and more patient.  He needs to have long arms. Kendricks is 5'11" but he's going to covering tight ends who are 6'5″, 6'6″ and 6'7″.  That's not going to work.
I like the fact that they drafted Kendricks but I believe they've got him playing out of position and will to need to change him to WILL
[media id=244 width=320 height=240]
Later in the second round, the Birds grabbed defensive end Vinny Curry, who plays with a passion.  Curry just refuses to be blocked and should be competing for playing time this season.
In the third round, the Eagles got their developmental quarterback, Nick Foles, who has great size and a big arm.  His mobility isn't anything to write home about, but he may get the Birds some extra picks if he develops in the future.
Their fourth round pick, Brandon Boykin, needs to grow up quickly and get ready to contribute immediately.  He's an outstanding athlete with great speed, quickness and strength for his size.  He's a better athlete than Joselio Hanson, but he's got to learn the tecniques to succeed at covering the slot receivers as the nickel and/or dime defender.  He could also help the Birds as a return man.
In the fifth round, the Birds tried to draft some depth in Purdue offensive tackle Dennis Kelly.  He's listed at 6'8″ and will have his work cut out for him, while trying to please offensive line coach Howard Mudd.
Mudd tends to like the smaller, shorter offensive linemen who are more athletic than they are big.  Kelly will need to be quick and athletic.
In round six, Iowa wide receiver Marvin McNutt was the target.  He's got good size and he may give Riley Cooper a run for his money since the Florida product hasn't been very productive.  McNutt has great hands and the ability to find the holes in a zone.
He doesn't have blazing speed, but he's faster than you think.  McNutt may be a great fit for the west coast offense and he's never going to be doubled with DeSean Jackson and Jeremy Maclin on the field with him.
[media id=265 width=320 height=240]
Later in round six, the Birds grabbed some depth at the guard position with Miami's Brandon Washington.  He may be able to help the Birds in the future, but it won't be any time soon.  Washington is regarded as a very good athlete for a guard and he has a chance to be a Mudd favorite in the future.  I think he's a good investment.
They finished up the draft by picking Kansas State running back Bryce Brown, who came out of high school as one of the top running backs in the country.  Things didn't work out for him at Tennessee so he transferred to Kansas State.
The Birds took a wild gamble on this one.  They are giving a guy with big time talent a chance here in the hopes that they will catch lightning in the bottle.  There's reason that there are no highlights of Brown in college.  He never did much.
[media id=266 width=320 height=240]
I would give the Birds a B+ in this draft because the top of their draft is great with Cox, Kendrick and Curry, they could wind up getting production out of Boykin and McNutt with the offensive linemen developing down the road.  If they get the development out of the linemen, this draft could wind up being an A.