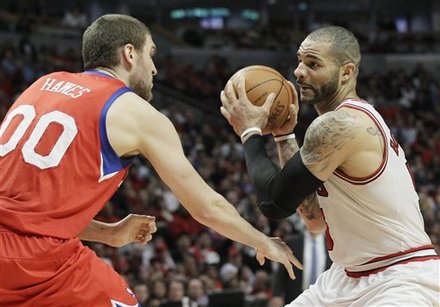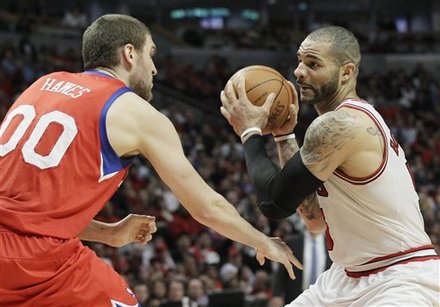 The Sixers had everything in place when they took the floor to play the Bulls last night in Chicago.  Bulls star point guard Derrick Rose was on the sidelines, so was Chicago center Joakim Noah, and for a while small forward Taj Gibson, but the Sixers were unable to take advantage of it.
They lost game five of their best seven series 77-69.  You've got to be able to score more than 69 games in a playoff game.
Chicago bullied the Sixers and forced them to shoot only 11-for-34 from the lane.  That's less than 30%.  It was so bad that in the first half they were able to make only 4-for-19 from their shot in the lane.  Those short shots are considered layups.
Speaking of 4-for-19, those were numbers for Andre Iguodala from the field. He couldn't throw the ball into the ocean.
Jrue Holiday didn't do much better.  He was 5-for-17 as he led the team in scoring with 16 points.  The Sixers as a team were below the 30% shooting mark for the game, making only 25-for-78 from the field.
"We're getting in there," Iguodala said. "We're just not finishing. I felt like we did a good job of being aggressive getting to the basket. Tonight we just didn't get the whistles like we had been throughout the series."
So you heard it from Iguodala, he's blaming it on the refs.  I agree that they swallowed their whistles, but they should have known what type of game the Bulls were going to play.
"It's a fine line," Elton Brand refused to blame the refs after the game. "It was a pretty physical game. We can't complain about foul calls. I'm sure we got away with a few."
They've got to make a major change on Thursday.
"We know what they're doing," Iguodala said. "We have to do a better job of adjusting to it. We have to force the issue as far as what we want to do offensively."