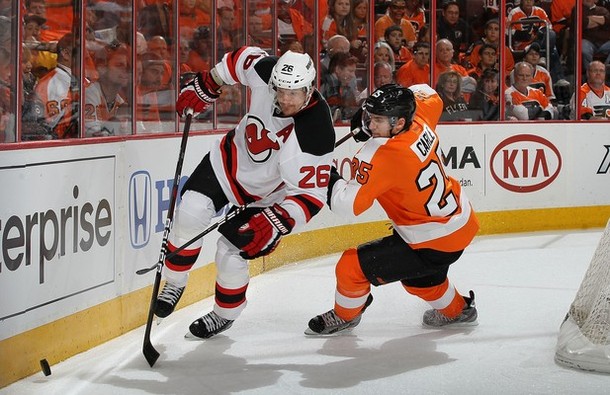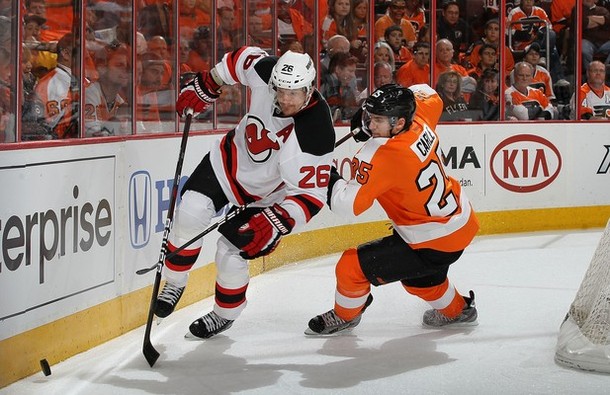 There is no player on the 2011-12 Philadelphia Flyers more polarizing than Matt Carle.
The loudest contingent of fans loathe him while many of the beat writers and bloggers that cover the team think the world of him.
Dustin Leed of The Hockey Guys has even suggested he's about as good of a player as Nashville Predators defenseman Ryan Suter, a question I asked myself back in January (with about 1/100 of his research).
In March, I also asked the question of whether the Flyers would be able to sign any of their impending free agent defensemen. Nicklas Grossmann has since been re-signed to a four-year, $14 million contract while Pavel Kubina, a healthy scratch (though he may have had an injury for all we know) during the Stanley Cup Semifinals series against the New Jersey Devils, is as good as gone.
With the future of the Flyers' blue line back under the microscope, there are two roads ahead- one without the Anchorage, Alaska native and one with him front and center.
A World Without Carle
In the first scenario, the Flyers allow Matt Carle to walk on July 1. Andrej Meszaros slides into the top four rotation while Andreas Lilja, Erik Gustafsson and Marc-Andre Bourdon fight over the 6th and 7th positions.
Meszaros isn't as strong as Carle offensively, and his decision-making also leaves a lot to be desired. He has potential to improve his game to replace Carle's production, but there's a possibility that a wider focus on Meszaros will just make him the next scapegoat.
I don't see the Flyers not acquiring another defenseman in this scenario to serve in the capacity that Meszaros filled- a 5th defenseman who can slide into the top four in the event of injuries. Among free agent defensemen, Jason Garrison (age 27), Carlo Colaiacovo (age 29) and Bryan Allen (age 31) are potentially available.
The added benefit of this scenario is that the Flyers could give themselves some salary cap breathing room in the event that Chris Pronger is ever healthy enough to return.
Matt Carle, Flyer for Life

If Matt Carle returns, as Dustin Leed suggested he will, he's looking at a sizable pay raise. If he signs a contract worth $5.5 million per year (just an estimate), then the Flyers would have around $26 million on the payroll for the defense.
I don't believe Holmgren would devote this much cap space to the blue line again, nor would he go into the 2012 season without making any kind of change to the roster after bowing out early in the playoffs. If Carle returned, you'd have to think either Braydon Coburn or Meszaros would be traded. Both players could garner prospects and draft picks.
Predicting the Unpredictable
The third scenario is that Paul Holmgren does whatever he damn pleases and blows up the team in ways that nobody could predict. After last summer, nothing would surprise me anymore.
The Flyers could make a play for either Shea Weber or Ryan Suter, but so would every other team in the NHL. Banking on Suter as a free agent would be a crapshoot, since every other team in the league would be vying for his services. The Detroit Red Wings are considered the front runners if he makes it to free agency.
Weber would require a trade of substantial trade of assets. Perhaps Coburn, James van Riemsdyk and two first round draft picks would get it done.
Ignoring the third scenario, the future of Matt Carle in Philadelphia will determine the future of the blue line moving ahead.
For the latest Flyers news and updates, you can follow me on twitter (@JoshJanet).