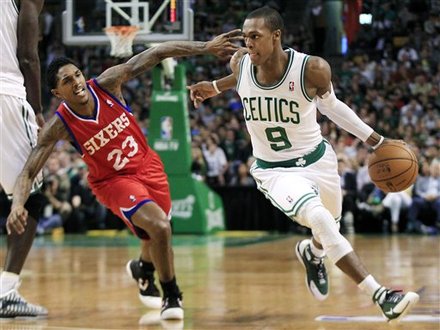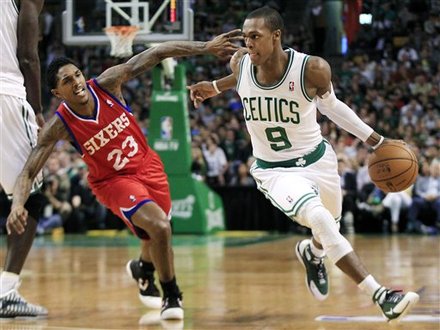 Man, aw man. This game was there for the taking. Just like that it is gone. Sixers played front-runners all night long. Then Boston was like " OK, enough. Let's stop playing around."  You can chalk this one up to plan old experience. Wait a minute.. Lou and Doug too.
Boston showed why they have won a championship. They know how to finish games. Garnett was awesome to-night. Though he is dirty as hell out there. The Atlanta Hawks owner was right. Pierce came up big when he need too as well as Rondo. Rondo got  to where ever he wanted to go to in the second-half.
With all that said on how well Boston executed down the stretch the Sixers shot themselves in the foot as well. The blame goes to Lou and Doug on that one. I thought Doug learned his lessons with having Lou in at the end of games. Well, he did not. Lou made 3 bone head plays.
Let me begin… Sixers hold a one-point lead with a couple of minutes left in the fourth. Lou has a two on one on the break. So what does he do? He takes his time and goes up soft as hell at the rim and gets block.
Play number 2. Lou is at the top of the key and he is trying to take his man off the dribble. What happens? He flat-out loses the ball.
Play number 3. Lou decides since I screwed up the past couple of possessions that he will redeem himself with jacking a fade way three-pointer. The best part about that was that no one was under the basket or even set on the offensive end yet. Why was that dumb as hell you might ask? Well, because he jacked up the shot with about 20 seconds left on the shot clock. You can throw that in there too. He has NO basketball IQ whats so ever. NONE. The Celtics came down and score after every one of those possessions.
Now on to Doug for leaving Lou in, not calling a timeout, and for not having his players switch on everything on
that in-bounds play at the end. I just don't understand. I know Doug is a good coach but he has these brain cramps in games at times. He has to see what everyone else is seeing with Lou.
Yes,  Lou can have his moments where he can hit almost any shot on the court. He is a one-trick pony.   If he is not scoring he does nothing else.  The ball needs to be in Jrue Holiday's or Evan Turner's hands at the end of games. They can at-least create for others as well as themselves. They are the future of this team not Lou. Come on Doug, I thought you learned your lesson. I guess not. Yes, I repeated myself with that one. That is what Lou does to me. He messes with my DAMN head.
The Sixers will likely be in every game at the end because they actually matchup pretty decent against the Celtics. They must find away to finish the Celtics off. Listen, I know I am ranting about Doug/Lou and how they helped the Sixers lose this game.
The real reason is experience. The Celtics have it. They showed why they have won a title in the past few years. They know how to finish. Sixers must find a way to close out games some how. Here's hoping they do….