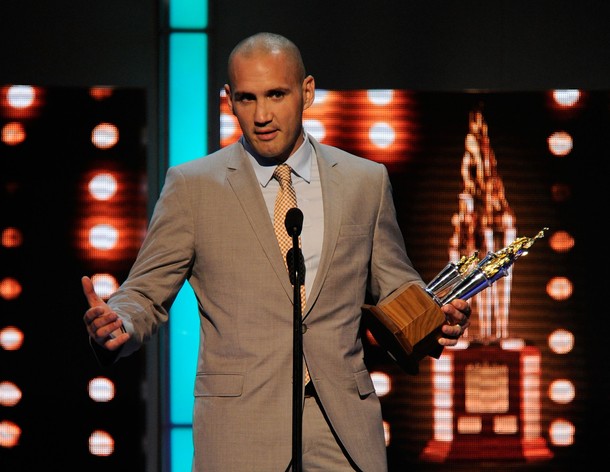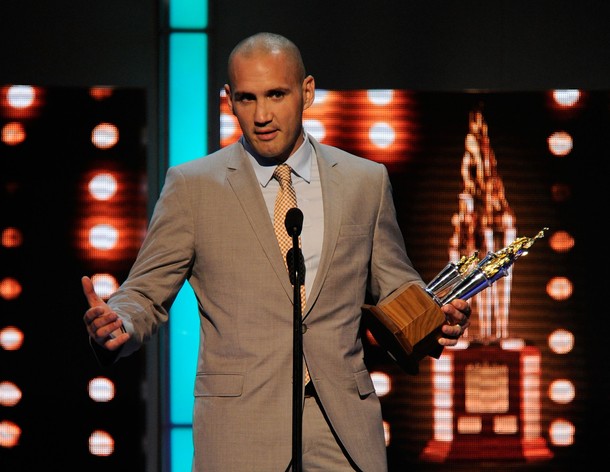 Before diving into the myriad changes that could take place over the summer of 2012 as the Philadelphia Flyers once more look to rebuild their roster, there are several Flyers whose playing careers may be at an end that are worth paying tribute to.
Ian Laperriere hasn't played a single game since the end of the Flyers' Stanley Cup Finals run in 2010. Signed as a free agent the previous summer, Laperriere finished his inaugural season in orange and black with 20 points (in line with his offensive output over the past few seasons with the Colorado Avalanche) and a career-high 25 fights.
If not for an unfortunate eye injury sustained after blocking a slapshot against Patrick Elias in the 2010 Stanley Cup Quarterfinals, Laperriere could have been a fixture on the fourth line this year. Instead, Laperriere has spent the last two seasons in an unofficial role as a mentor for the team's draft and AHL prospects.
Tim McManus of the Post Star caught up with "Lappy" earlier this year. "I'm still young. I'm 38 soon and that's why I'm trying everything before I make a decision. That's why I don't say no to anything," Laperriere said. "Coaching is the closest thing you can get to the game. It's something that's inside of me. But we'll see. We'll see."
Laperriere also won the Bill Masterton Trophy in 2011 for the NHL player who "best exemplifies the qualities of perseverance, sportsmanship, and dedication to ice hockey."
Blair Betts, 32, found himself in a similar state of limbo after the Flyers put him on waivers at the end of the 2011 preseason. Betts was claimed by the Montreal Canadiens, but then "returned" because he had failed his physical. The Flyers put him on LTIR and he has been spotted rehabbing intermittently throughout the season.
The organization never once gave an update on either what Betts' injury was (believed to be his knees) or what the timetable was for his return. The only update from any member of the media came from Sam Carchidi of the Philadelphia Inquirer, who wrote on January 16, "Center Blair Betts, sidelined with a knee injury all season, skated before practice again and said he hopes to play this season."
Betts will be a free agent this summer. If he isn't healthy enough to earn a tryout in the NHL, he will likely retire, which is a shame. Betts was one of the best special teams players in the NHL when he wasn't sidelined with an injury. Unlike Laperriere, Betts has not found himself a role within the organization and may not be seen around the Wells Fargo Center next year.
Chris Pronger is the albatross of the trio.
While Betts and Laperriere's contracts will expire in July, Pronger has five more years left on his contract, five of which he may never play.
On the receiving end of a devastating stick swing to the eye from Toronto Maple Leaf Mikhail Grabovski, Pronger's last game was a 6-4 loss to the Winnipeg Jets in November. Pronger remained out of the line-up with a "virus" that was later qualified as a "knee injury," and then later assessed by actual doctors as a severe concussion.
Pronger has made limited public appearances since the injury, including at least one visit to the locker room and one press box appearance. The blog Broad Street Hockey published a transcript of the final media session of the season with general manager Paul Holmgren, who provided the best update he could on the Flyers' captain.
"Update, he's doing probably the same and any chance of returning, I would say your guess is as good as mine…  I think at some point I'll sit down with Chris and see where he's at. Probably prior to July 1, we'll make an assessment on where he's at. I'm still, as it relates to Chris and as much as anything else, I'm a glass is half full kind of guy. I believe he's going to play, but I don't know, I don't have anything to back that up… I think he still has headaches from time to time. Yeah, he has concussion-like symptoms."
The loss of Pronger can't be attributed to the Flyers lack of success in the 2012 Stanley Cup Semifinals, but certainly he would have been a stabilizing element on the blue line if he were available to play.  The uncertainty surrounding his health doesn't make Holmgren's responsibilities any easier.
To Laperriere, Betts and Pronger, I wish you all the best of luck. You all remain cemented in Philadelphia history as members of a memorable Cup run in 2010 that fans will never forget. We hope to see you, in one way or another, with the organization next year.
For the latest Flyers news and updates, you can follow me on twitter (@JoshJanet).