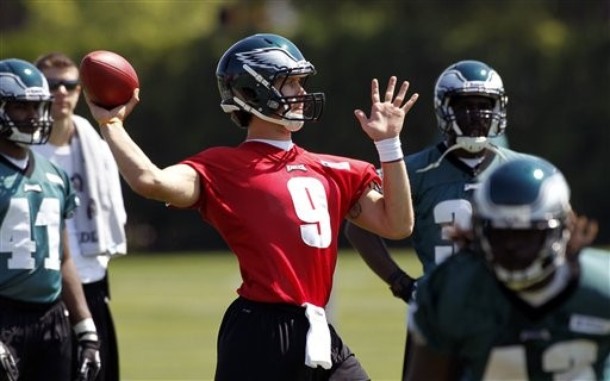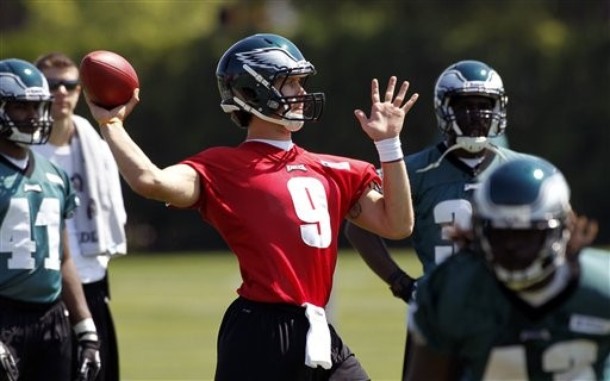 Andy Reid and his rookies finished their mini-camp yesterday and here is my first impression of some of the new players.
The Eagles second pick in the second round, Marshall defensive end Vinny Curry, spent the entire weekend flying around sixth round pick Purdue offensive tackle, Dennis Kelly.  I see a lot of Trent Cole in Curry.  He's a worker, who will give you everything he has each time he lines up.  It seemed that Curry was deep in the pocket behind the offensive line before rookie quarterback Nick Foles got there in his drop.
The third round signal caller threw a few interceptions at the camp, but looked sharp for the most part and showed off his arm strength at the camp.  His arm strength alone gives him a better long-term potential than last year's third stringer, Mike Kafka.
Fourth round draft pick cornerback, as well as punt and kick returner, Brandon Boykin was very impressive at the Birds rookie camp.  He's very good speed and quick, plus he seems to have a feel for playing the nickel position.
He was sure-handed when catching punts during the camp.  Boykin was always a threat at Georgia to take it back the distance.  Of course he's got a lot to learn, but he played the nickel position in college and seemed to be very comfortable in the position during the 7-on-7 work.
Running back Bryce Brown has a good combination of size and speed, but he must prove he can pass block and pick up the west coast offense. Brown is wearing number 34 and he's going to need to get in the weight room.  It didn't like his upper body is developed the way it should be.