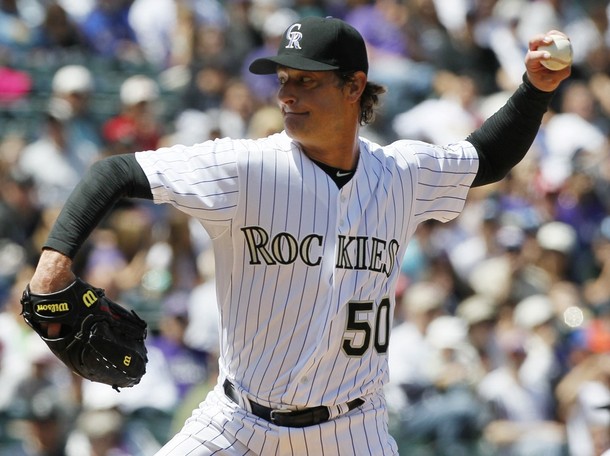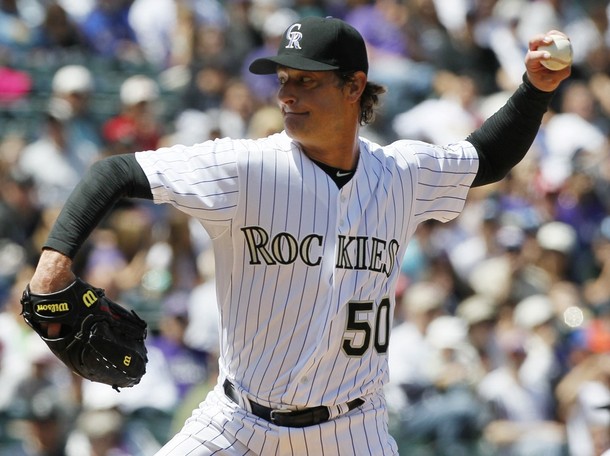 Jamie Moyer: At 49 years old, Moyer continues to defy all odds and has worked his way back into the game as a member of the Colorado Rockies' rotation. He's 2-3 with a 4.20 ERA in eight starts after being away from the game for more than a year. How can you not admire this man's drive?
J.A. Happ: Once upon a time, fans didn't want to give up Happ as part of a trade for Roy Halladay, and were also upset at losing him in the Roy Oswalt deal. It looks like the lefthander isn't so special after all. He was a disaster last year, going 6-15 with a 5.35 ERA, and this year he's off to a 2-3 start with a 5.72 ERA.
Brett Myers: Myers has been flourishing in his return to the closer role in 2012. He's converted nine of his 10 save opportunities, and has only given up three runs and eight hits all season. He'll be highly sought after at the trade deadline, when the Astros will once again be sellers. His lone loss on the season came against the Phillies earlier this week.
J.C. Romero: After receiving his release from the Phillies a year ago, Romero failed to break back into the majors after signing on with several teams, but this year he temporarily got a spot in the Cardinals bullpen. He was excellent in his first nine appearances, giving up just two runs, six hits, no walks (?!), in six innings. However, in his last appearances he got shelled for seven runs on eight hits, earning him another release.
Michael Bourn: Bourn has been what the Braves expect him to be; a player that can set the table and hit for average. The outfielder is batting .337 with eight doubles, 11 stolen bases, and 20 runs scored. He's started every game for Atlanta this season.
Vincente Padilla: A decade ago, Padilla was considered one of the top pitchers in the Phillies' rotation. My, how far we've come from those days. Padilla has struggled to stay in the majors over the last three seasons, but he's currently a reliever for the Boston Red Sox. He's appeared in 11 games, and is 1-0 with an ERA of 5.40.
Scott Rolen: You think Placido Polanco is done? He's not half as cooked as Rolen. The former All-Star third baseman is hitting just .174 with two homers and 11 RBI's in 92 at-bats for the Reds. He's now on the disabled list.
Wilson Valdez: A lot of Philadelphia fans cried when the Phillies shipped the popular utility man to Cincinnati in a trade. Guess what? There really isn't much of a difference between Valdez and Freddy Galvis. Valdez has played in 13 games, hitting just .187 with two RBI's in 30 at-bats.
Bobby Abreu: Now in the twilight of his career, the former slugger struggled and was released by the Angels. He's since signed with the Dodgers.
Raul Ibanez: Ibanez has given the Yankees what he gave the Phillies in the last two seasons; low batting average, but decent power and run production in a part time role. He's hitting .263 with seven homers and 22 RBI's.
Rod Barajas: This guy just won't go away. Every year he latches on with a different team, and performs poorly until he steps up to the plate against the Phillies. He's having a terrible year, batting just .188 with two home runs and three RBI's for the Pirates.
Kevin Millwood: Millwood is another guy that I have hard time understanding why he continues to get major league work. He won a job in the rotation of the Seattle Mariners, and is 1-4 with a 5.04 ERA.
Kyle Lohse: Lohse is off to a great start for the Cardinals, with a 5-1 record and a 2.70 ERA.