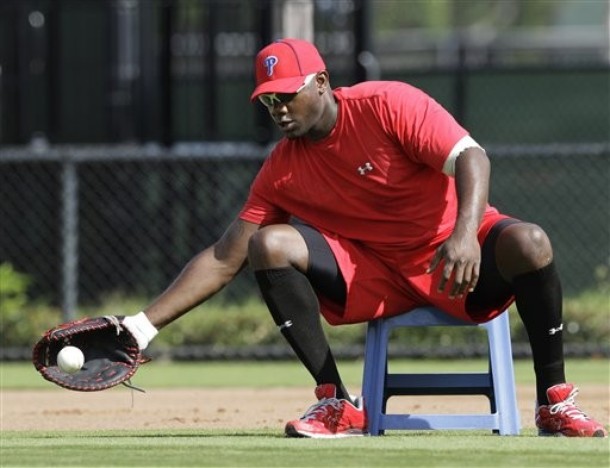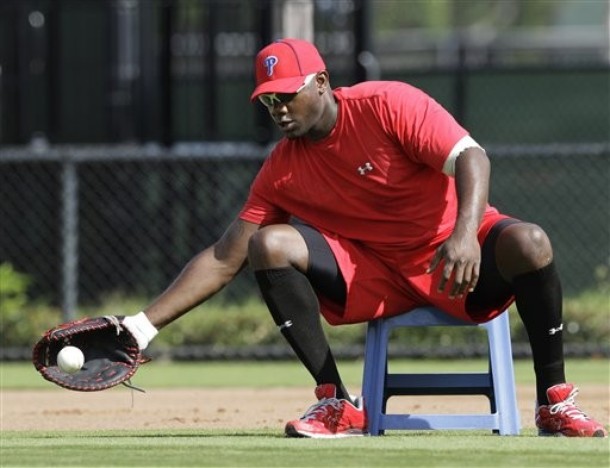 Frank Fitzpatrick of The Philadelphia Inquirer wrote a piece over the weekend about the events leading up to Ryan Howard's torn Achilles which brings some interesting new information into light.
In the weeks leading up to Howard's injury, the slugger had been battling some pain in his left heel. The pain become significant enough that the Phillies decided to give the first baseman a cortisone injection to treat the injury in hopes that his discomfort would fade away, and the former All-Star would be in top condition for the playoffs.
Just a few weeks after receiving the injection, Howard suffered his torn Achilles on the final play of the NLDS, which raises questions about whether or not the team took a major risk by allowing one of their most valuable players to take a cortisone injection.
Fitzpatrick writes "Ample medical evidence suggests cortisone can damage surrounding tissue, fray the Achilles, even trigger a rupture. According to one recent survey of orthopedic physicians – many of whom unhesitatingly prescribe cortisone for tennis elbow or rotator-cuff problems – two-thirds would not use it to treat an Achilles injury."
"Because the drug masks pain instead of addressing its root cause, some fear it encourages patients to overuse the significant weight-bearing tendon, risking additional damage. Dr. Karim Khan, a researcher and professor at the University of British Columbia, told the New York Times in 2010 that cortisone injections may actually "impede the structural healing."
While hindsight is 20/20, it seems as though the Phillies took an insane risk by giving Howard a cortisone shot so close to his Achilles tendon; a risk that has come back to haunt them.
The medical evidence that Fitzpatrick described suggests that applying cortisone to a sensitive area of the body, an area that is going to receive a great deal of physical stress, is just asking for trouble. The drug may have done a lot more harm than good if it masked all of the pain Howard was feeling, allowing his leg's condition to gradually decline until it became a full-blown Achilles tear.
Fitzpatrick goes on to write more about the risks involved with a cortisone injection so close to the Achilles.  "In 1996, even though the San Diego Padres' medical staff initially balked at injecting the drug so close to his Achilles, Tony Gwynn had at least one cortisone shot near the tendon. A year later, Cincinnati's Barry Larkin had two injections. Both players ended those seasons with a partially torn Achilles."

There you have two examples of a couple of former stars that suffered the same fate as Howard shortly after receiving cortisone injections near their tendons. The Phillies had plenty of evidence in front of them to suggest that a cortisone shot near the Achilles tendon is a recipe for disaster, but they chose to do it anyway.
Ruben Amaro Jr. responded to the story, saying "The cortisone shot was treated for some (other) issue he had. It was not part of the Achilles' injury. We didn't feel it was an issue. That was resolved by the time he had his injury. One thing had nothing to do with the other."
While Amaro may say that the Achilles injury had nothing to do with the cortisone shot, can we actually trust what he says? This is the same guy that told us there was nothing to worry about Chase Utley's "routine soreness" in each of the last two years during Spring Training, only to ultimately reveal that the second baseman would be out for an extended period of time. To be fair, you can't expect the general manager to come out and admit that they made a serious mistake by giving Howard the shot. That would be a major black eye for the organization, and their medical staff.
Could Howard's cortisone shot have set the table for his eventual tear? Or is it just a coincidence? We'll likely never know the truth. However, it seems to me as though they took a short-sighted gamble (ignoring all known medical risks) to get their star at his best for another World Series run, and their decision may leave them with a power hitter that will never be what he once was again.