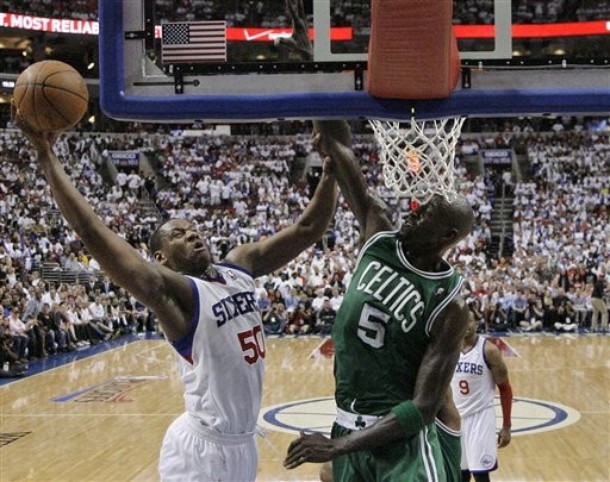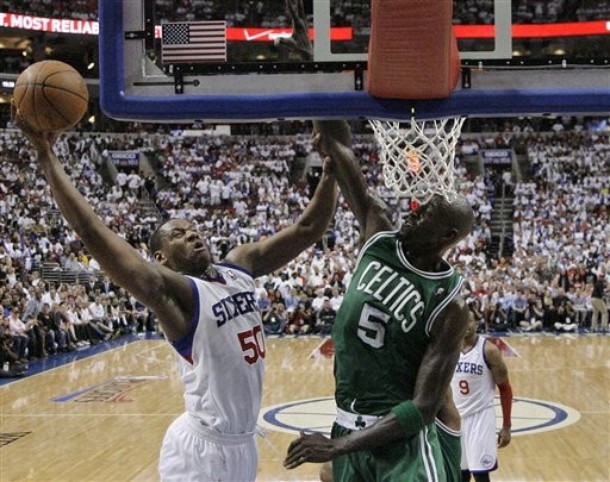 Right before the tip-off of Game 4, I was still heated about Game 3. The Sixers played out of character. I'm not talking about missing shots, I'm talking about effort. That is the one thing you thought that they would bring to the table every single night.
The Sixers let the Celtics do what ever they wanted in Game 3. Paul Pierce was screaming at the top of lungs after every basket he made. Kevin Garnett was talking down to everyone who would walk by him. Then you even had Michael Pietrus giving his celebration after knocking down a three ball as he went back down the court. After that horrible performance, the Sixers needed to man up.
It always bothers me when the home team lets the visitors show them up on their court. I just don't get it. For the love of God, I had to watch the Celtics bench try to impregnate everyone in the building all night long. (That has to be the dumbest celebration I have ever seen by the way.) Yes, the opponent might be better than you that night. But you never, EVER let a team show you up on your home court! They did just that.
I know Turner shot awful from the floor, but he kept on attacking. I love the fact he clapped right in Pierce's face at one point while the Celtic laid on the floor. Then you had KG try to elbow/trip Iggy, and moments later Brand tried taking KG's head off while coming through the lane.
The Sixers bullied the bullies. That has always been the Celtics' way. Physical play and intimidation. The Sixers beat the Celtics at their own game. Obviously, I would have liked to see it a little more early on. We have grown accustomed to seeing the Sixers just have flat-out awful halves, then having monster halve's all in the same game. They shot 23% from the field in the first half and decided not to score until down 14-0. Though being down as many as 18 points in the third quarter, the Sixers out scored the Celtics by 24 points in the second half. 
It seemed everyone had a part in this comeback. Lou Williams (who I will admit I cannot stand at times) was awesome.
Jodie Meeks (who has been lost for about three months) arrived for the first time this postseason.
The rookie Lavoy Allen has me scratching my head with the way his play has been in this series. He has been able to body up KG, and has been knocking down those mid-range jumpers as though he has been here before. Very impressive.
Thad was Thad, bringing great energy as usual.
Then you have Iggy. Can we call him clutch? Well, he is starting to prove a lot of people wrong including me. Iggy slowly but surely is changing his perception around these parts. He gave the Sixers the lead with 1:26 left in the game. Then he put the final blow in with a three ball with 30 seconds left in the game. Seriously, who is this dude?
That second half was unbelievable. There are no other words to describe it. Its funny I tend to think I am actually playing with the Sixers on the court at times. I really took Game 3 personally. I hate being shown up on your own court. If you get beat, you get beat. Don' t ever let the Celtics or any team show you up on your home court. Take that personal, I know I do. During Game 4, the Sixers did too, they didn't want to be shown up in front of the home fans again, and showed a great amount pride during their comeback.