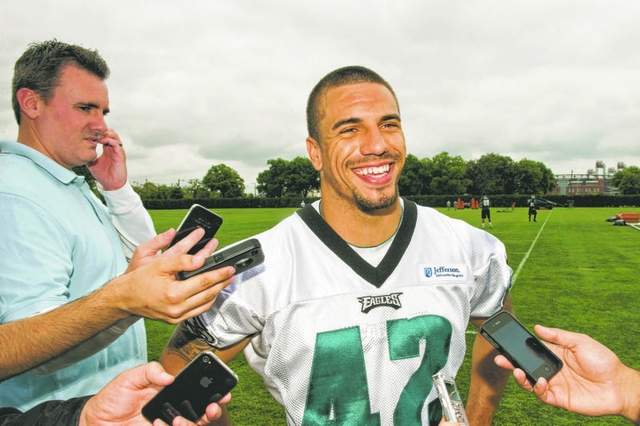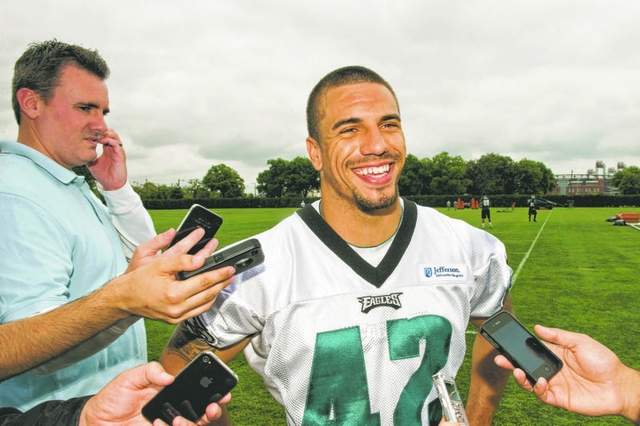 Eagles third-year safety Kurt Coleman is feeling very good about his situation nowadays.  He's starting and confident that this is going to be a special year for him and this football team.
"You love to be at that top, starting spot, that's what you work for every single year," Coleman said. "I'm just going to do my job each and every day and allow the rest to take care of itself."
Another Eagles third-year safety Nate Allen says his knee is 100% and he's ready to show people what he can do at the safety position.
"I'm just going to play my game and not worry about what the media is saying or what the fans are saying and just go out and help the team however I can and try and make as many big plays as I can," Allen said.
As things stand right now, Allen will be teamed up with Coleman.
""We've constantly got to get better and better and I think we know that", Coleman said. "We all want to play at a Pro Bowl-caliber level and I think we're going to work towards that", Coleman said. "We have a full offseason to get better and we're looking forward to getting after it this year."
Coleman regrets that he and Allen only got the chance to play a few games together and get to know each other.
"That's the biggest thing I think that we missed last year," Coleman said. "I think every single thing we're doing right now – whether it be in the weight room, meetings, out here on the field – we're getting to know each other a lot more."Nate and I, we came in together. We've always had a good bond. We hang out. But the more we can get on the field and understand each other's wavelengths and each other's patterns, the better we will be."
"Kurt's one of my good friends and we just feel good back there together," Allen said. "A lot of times we can just look at each other and know what's going on, give each other eye contact, and we can just keep building."
"We have a lot of confidence in each other," Allen said. "We feel good playing together and we feel good playing with the guys around us."
The odd man out right now is second-year safety Jaiquawn Jarrett, who is a product of Temple.  He's been forced to take the backup role because of his unsteady play from a year ago.
"We'll see," Reid said. "Last year, he was doing too much thinking and not enough playing. That's going to slow you down. He's not the fastest guy in the world as it is, but he's fast enough.
"You didn't see the big hits that you saw out of him at the college level. He's a big hitter. Once he gets comfortable with everything, and it looked like he was picking up things as the year went on, I expect him to do good things."
"I knew what I needed to do to get out there," Jarrett said. "It was all about not being hesitant and playing fast. They could see I wasn't playing as fast as I'm capable of playing.
"You can't be hesitant out there. There's just a split-second difference between a touchdown and an interception."
The youngster was quick to point out how the lockout cost him the chance to learn the defensive system.  He had no time to learn the defense and get ready to do his job, but this time around they have a full off season and plenty of time to get ready to go.
"It's always tough to learn on the run like that," Jarrett said. "You've got to learn it inside and out and then go out there and execute and make plays. When you're hesitant, you're not going to be able to play as fast as you want. This year, I'm going to play fast."
Eagles cornerback Nmandi Asomugha says he's ready to drastically improve his performance this year and one of the main reasons is that he's familiar with the system and what the Eagles coaching staff wants him to do.  Here he is talking about the importance of having had a year here in playing in the system with his Eagles defensive teammates.
"I think it's huge, and the comfort level is huge knowing who your teammates are going into practice as opposed to going into the games and not knowing – you might know their names but not necessarily how they play. I know these guys now much better and they know me, so we know what works better and what doesn't work. Even if guys have lost some of that through the offseason when we weren't together, coming back out here and getting these plays will help you remember and get back into it."