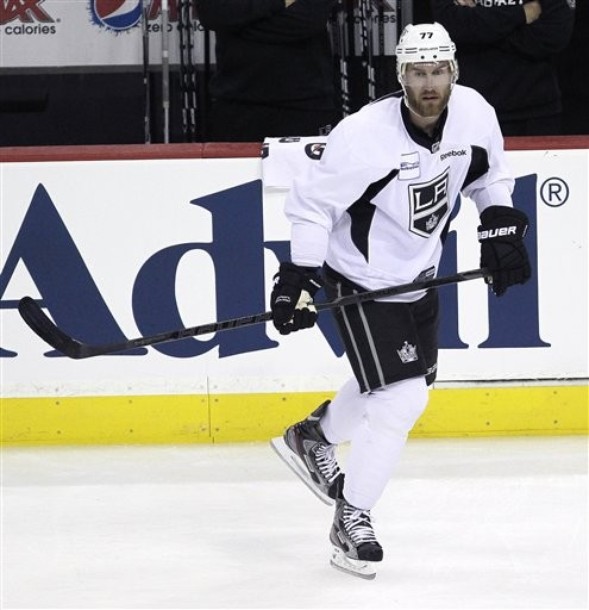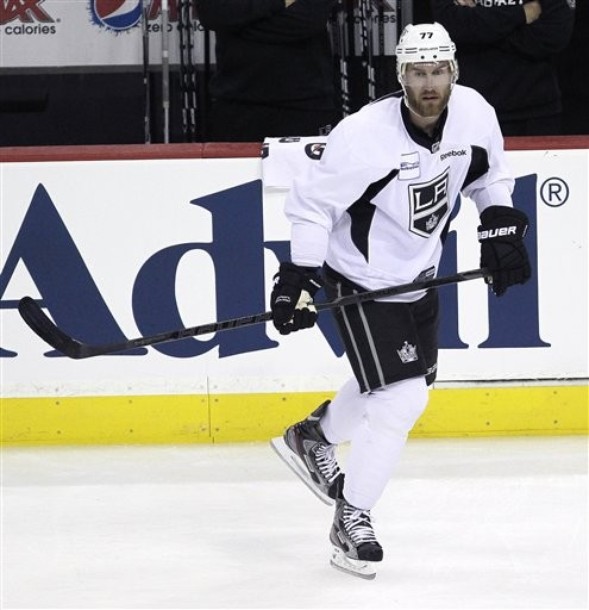 For the Flyer fans that could actually stomach watching Game 1 of the Stanley Cup Final on Wednesday night, it was an all-too familiar (and sour) feeling of not seeing the Orange and Black play for hockey's richest prize on its grandest stage.
But this year, the taste even more bitter than usual. On one hand, you have Marty Brodeur, Zach Parise, Lou Lamoriello, and the rest of the reviled New Jersey Devils that eliminated our hometown hockey heroes. On the other hand you have the Los Angeles Kings throwing salt in the wounds. You know, those "Flyers West" Kings that feature Assistant GM Ron Hextall, Justin Williams, Simon Gagne, Jeff Carter and Mike Richards.
Never fear though, Flyer fans. No matter what happens over the next week or so, the Flyers will win this past offseason's trades for years to come and will be a force to be reckoned with for the foreseeable future.
When Paul Holmgren traded Carter to the Columbus Blue Jackets on June 23 of last year, the trade was universally reviewed as an utter steal for the Flyers. There's no reason to think any different almost a year later. Columbus sent winger Jakub Voracek and first-round (eighth overall) and third-round (68th overall) picks to Philadelphia in exchange for Carter.
Voracek, the 7th overall pick in the 2007 draft, had a stellar first season in Philadelphia. The 22-year-old Czech playmaker posted 18 goals (a career-high) and 31 assists, good for 49 points in 78 regular season games. He added two goals, including a stunning overtime winner in a Game 1 comeback in Pittsburgh, and eight assists in his first elongated playoff run.
While his regular season numbers may not blow many observers away, it became clear that Voracek became more and more comfortable in Philadelphia as the season went on, scoring 12 of his 18 goals after the calendar turned to 2012.  He skated with more confidence and found trust in his linemates, no matter who they were. He even managed to get under Sidney Crosby's skin, which will forever endear him to the Philly fans.
Imagine Voracek feeding slick passes to snipers like Danny Briere and Claude Giroux over the next few seasons. It's scary to think what kind of assist numbers Voracek could produce in Orange and Black. At just 22 years of age, the Flyers may have a gem on their hands.
With the eighth overall pick in the 2011 draft, the Flyers selected center Sean Couturier and he warranted to be the steal of the draft. Couturier proved his worth during training camp and the preseason and earned a roster spot with the big club. In his rookie season, he netted 13 goals and added 14 assists for a total of 27 points in 77 games. He even notched a hat trick in an 8-5 shellacking of the Penguins in Game 2 of the teams' awesome first round series.  Not too shabby for a 19-year-old.
But Couturier demonstrated how valuable he is with his defensive showings. Night in and night out he was matched against the opposition's primetime player and night in and night out he passed his tests with flying colors. Just ask likely Hart Trophy winner Evgeni Malkin what it's like to play against Couturier.
The offense will continue to come for Couturier but his defensive prowess is already invaluable. Once he begins to play with more skilled linemates that can help him create offensive space, look out, Eastern Conference.
The Flyers nabbed forward Nick Cousins with Columbus' third-round pick. In his third Ontario Hockey League season, Cousins broke out with 35 goals and 53 assists. He plays with a gritty edge to his game so much so that his OHL team's general manger compared him to Bruins super-pest Brad Marchand. That's the kind of player that Philadelphians will surely enjoy watching. Cousins signed his entry-level deal in March and should get a good, long look during training camp.
Jeff Carter had himself a brief, miserable stay in Columbus. He broke his foot (Shocker!) a few weeks into the season and never found any sort of chemistry with Rick Nash as the Blue Jackets crumpled to the bottom of the standings. He posted 15 goals, ten assists and a -11 in Columbus before asking for a trade and winding up in Los Angeles and eventually the Stanley Cup Finals.
Point: Philadelphia… by a mile. Seriously, this could go down as one of the most lopsided trades in NHL history. Paul Holmgren should be arrested for pure thievery. With this trade, the Flyers set up their future while Columbus may have set itself back even more than it already was.
Just hours after trading Carter, Philadelphia shockingly sent fan favorite and captain Mike Richards to Los Angeles in exchange for Wayne Simmonds, Brayden Schenn, and a second-round selection in the 2012 draft. This stunner of a deal initially left Flyer fans scratching their heads but that is no longer the case.
Wayne Simmonds had a career year during his first season in Orange and Black. The 23-year-old power forward potted a career-high 28 goals during 2011-2012. He added 21 assists for a career-high 48 points.
Though Simmonds didn't make much noise in the playoffs, he was a force in front of the net and with his fists during the regular season. His teammates and coaches love the way he plays and his confidence should grow with the season he had. He could become a power play rebound specialist in the near future, if he isn't already. He'll be a key cog as time goes on.
Brayden Schenn was the crown jewel of the Richards deal. A prized prospect before this past season, the 20-year-old Schenn notched 12 goals and 6 assists in 54 games this past season. He netted his first career goal in the Winter Classic no less.
While Schenn hasn't even neared his overall offensive potential, he showed he isn't afraid to get physical and dirty when the time calls. He is capable of delivering vicious checks and stirring the pot with the best of them. He'll drop the mitts too. There's a reason he was coveted around the league. Give the offense another season or two and we'll have another hockey superstar here in Philadelphia.
The Flyers wound up sending LA's second-round pick to Dallas in the Nick Grossmann deal, a deal that may have saved the Flyers' season. Grossmann stepped in and used his physical nature and shot-blocking capabilities to help lessen the blow of losing Chris Pronger. The Flyers desperately need a defenseman like Grossmann, and the second-round pick was an easy call to give up. Grossmann recently re-upped with the Flyers, signing a four-year contract extension.
Mike Richards had a so-so first season in Los Angeles, scoring 18 goals and adding 26 assists in 74 games played. He struggled mightily at times though, including a 25 game goalless drought in the middle of the season. He's picked it back up in the playoffs though, having notched 11 points in 15 games.
While watching Richards' playoff intensity and will to win may be tough to watch now, Philadelphia still wins the trade. Holmgren again effectively molded the Flyers' future with young, ready-to play studs. It may not be as lopsided as the Carter deal, but it was a hell of a trade for Philadelphia.
If Carter, Richards and the rest of "Flyers West" lift the cup over their heads, good for them. They deserve it. But we shouldn't be bitter. The Carter and Richards trades ensured that our time is in the near future.