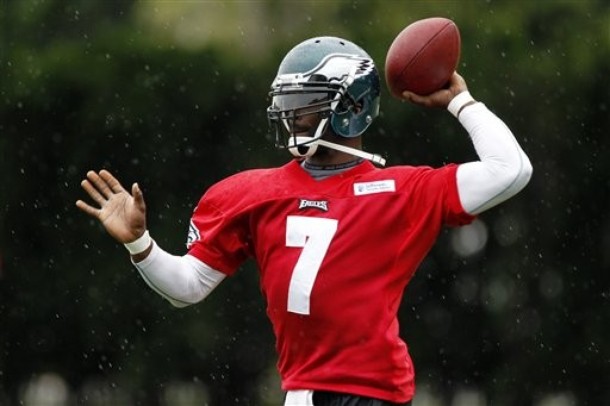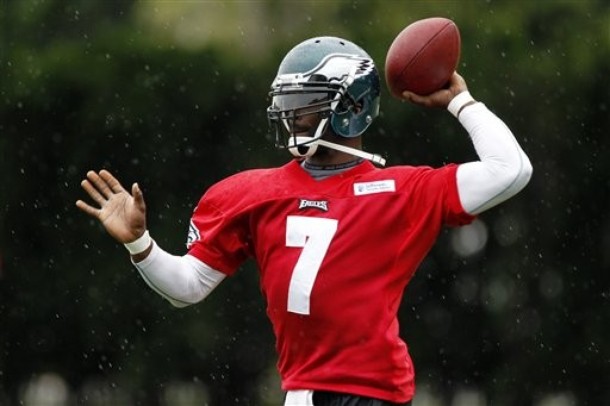 You can hear the oohs and aahs at the Eagles workouts, when quarterback Michael Vick drops into the pocket, sets his feet then lets go of one of pretty 60 to 65 yard passes to DeSean Jackson or Jeremy Maclin, that never seems to come down.
This is the part of the game that comes natural to Vick, but it's not the most important part of his work this off season. He's tired of hearing the same questions which come from the media after the workouts about cutting down on the number of turnovers he had a year ago, but make no mistake he knows what he needs to work on this off season.
"My ultimate goal each and every year is to improve my accuracy and just creating a general understanding of the offense in and out and know where all my guys are going to be", Vick said after today's workout. I try to figure out the best way to make the game as easy as possible, even though sometimes that's not possible. I'm trying to just come in and get better with the blitz and blitz schemes so I can get my guys in the right spots at the right times."
Vick has been on the money thus far this week with his throws.  He's doing a more consistent job of setting his feet then throwing the ball. The most difficult part of his accuracy concerns resetting his feet after deciding to maybe take off on a scramble then reconsidering.
This is a common problem with most athletic quarterbacks, who have the temptation of taking off on scrambles.  Setting your feet to run is much different than setting your feet to throw.
A few of his throws were sailing high during the start of the OTA's because of his feet, but he's resetting his feet and throwing strikes since then.  The Eagles quarterback is also getting better each day with his blitz recognition and adjustments.  His accuracy, the recognition and the adjustments all go together.  He needs to be flawless in all these areas to avoid mistakes and turnovers.
Vick identified the area of his game which he needs to work on the most.
"Definitely my accuracy", Vick said. "Obviously you want to have poise during tough situations and during the blitz and still be able to maintain accuracy and the integrity of the pocket. I've been just trying to do that and I've been working hard on it. I think that anything you work hard and set your mind up to do, you can do it."
You can bet that head coach Andy Reid, offensive coordinator Marty Mornhinweg and quarterback coach Doug Pederson know precisely what Vick needs to focus on during these weeks of practices.  They observe his every move during each play, then go into their Nova Care offices and spend the rest of the day breaking down each decision he makes during his progressions on each play.
It's kind of like training an airplane pilot.  Vick has to make ten or more decisions in 10-15 seconds.
I've noticed that they're working different blitz looks into each offensive period.  They show certain looks to Vick on first and ten with a safety or linebacker coming off the corner.  On second and long or short, they may have a safety and linebacker coming at Vick with one of the defensive lineman standing up, then dropping into pass coverage.
On third downs with the nickel or dime personnel on the field, the blitzes go to another level with the nickel and dime defensive backs blitzing from the slot and defensive ends sometimes standing up.   There are times that they show him defensive looks where all 11 defensive personnel are standing up.  Four, five or six of them will come on the pass rush and the others will drop into pass coverage.  It's a difficult look to read.
During these instances, Vick has to recognize the blitz and either change the formation, change the direction which the offensive line is sliding to, or abandon the play altogether.  This has to done within seconds.  He must make the decision, then get the information to the other ten guys on the offense, get the ball snapped, then figure out which receiver to go to with the football.
Yes, he's got to get the football out of his hand much quicker than he did a year ago.
I was talking to a veteran NFL player who is a tremendous student of the game and he was talking about having a conversation with Aaron Rodgers and the Packers quarterback is able to execute this part of the game like it's elementary.  Rodgers changes plays at the line and could run the entire offense at the line of scrimmage without huddles if it was needed.
Vick is making tremendous progress at the workouts and the Eagles coaches must continue to push him.
They know where their destination is.  The talented quarterback has to get to the point where he can read these blitz looks in his sleep.   In fact, number seven and the Eagles offense has to advance to the point where they look forward to defenses blitzing them.  They want to develop to a status where the other team is afraid to blitz them.