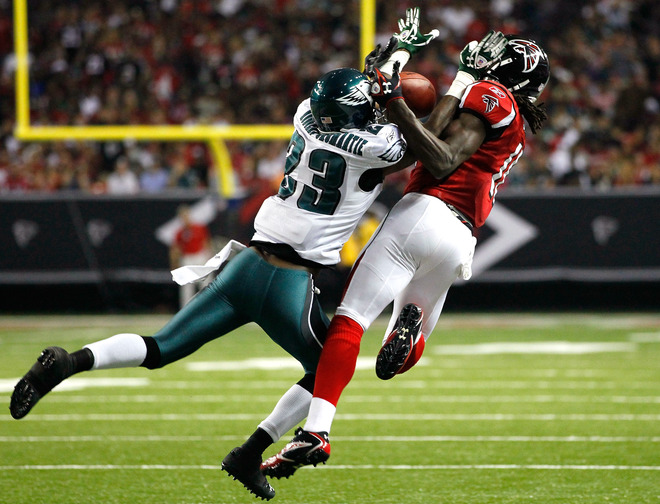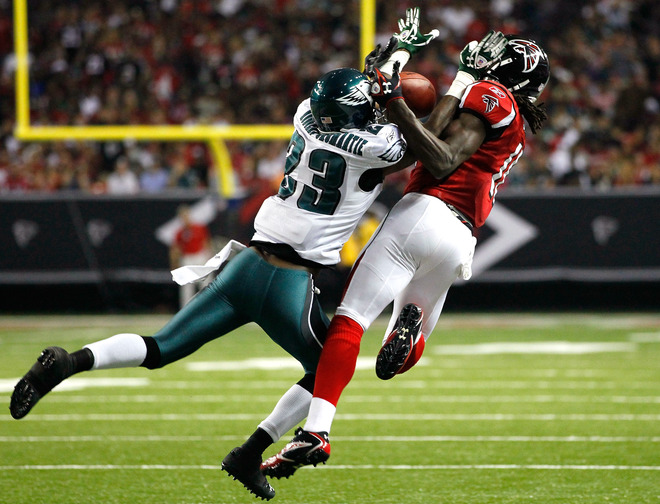 Eagles cornerback Dominique Rodgers-Cromartie is a physical specimen.  He stands about 6'2″ and is able to run step for step with Eagles wide receiver DeSean Jackson, who is without a doubt, one of the fastest players in the NFL.  If Jackson can run a 4.3, Rodgers-Cromartie is right there with him.  The Florida-native has been timed in 4.29 in the forty-yard dash.
Unlike his cornerback mate on the other side, Nmandi Asomugha, Rodgers-Cromartie has extremely quick feet in his back pedal and has no problem backing off receivers and covering them.  Asomugha still remains uncomfortable when lined up off the receiver. He will play off a wide out at times, but he's most comfortable disrupting routes by jamming the receiver at the line of scrimmage.
Whereas Rodgers-Cromartie, the former Tennessee State cornerback is  one of the few defensive backs who can stay in his back pedal nearly 15-yards down the field against the lightning fast Jackson. It's frightening how good Rodgers-Cromartie could be because of his raw skills.
He's got the quickest feet of a defensive back on the team and is the best pure man-to-man coverage guy on the roster.  Rodgers-Cromartie can stop on a dime, then break back on a route and be at full speed within three steps.  That's the reason he already has four touchdowns in his NFL career.
"If you take a fish and put him on land, he doesn't work well," said Eagles wide Jason Avant about Rodgers-Cromartie moving back outside from the nickel position he played at times a year ago.  "He's an outside guy and he's always been fast.  He's accustomed to being out there."
He demonstrated that ability when he picked off a Michael Vick pass earlier in the week and took off with it the other way.
The former Arizona first-round pick has the long arms needed to walk up into the faces of the games best wide receivers and jam them at the line of scrimmage to prevent them from releasing, in much the same way which Asomugha was does, but Rodgers-Cromartie needs to get stronger.
He's listed as carrying only 182 pounds on a 6'2″ frame.  He needs to get in the weight room get stronger as well as meaner, and make being a Hall of Famer his goal because he has the talent to do it.  If Rodgers-Cromartie were to develop a desire to totally dominate receivers and dedicate himself to studying tape on the receivers and getting stronger by lifting weights, he would frighten most quarterbacks from throwing his side.
Instead Rodgers-Cromartie is easy going, and comfortable with showing occasional flashes of greatness.  He describes himself while describing new defensive back coach Todd Bowles.
"He's kind of quiet right now, but in the meetings rooms he explains most things to a tee", Rodgers-Cromartie said. "As far as talking loudly and being rowdy, he isn't that kind of coach. He's like me, laid back."
The truth of the matter is that Rodgers-Cromartie is too laid back to the point where at times he gets lackadaisical.  During the OTA's there were times when he standing at his cornerback position and looking at the ground as the Eagles offense is coming out of the huddle and getting lined up.  At the last second before the ball is snapped he realizes that all the receivers are on Asomugha's side of the formation.
Last year I saw times where his tackling was atrocious. He's too good of an athlete to perform that poorly.  Rodgers-Cromartie has the ability to have been a shut down guy at the nickel back position, but he's not physical enough.  He's not an aggressive football player, which open the door for big, physical receivers to have their way with him.
The only reason he was in the Kevin Kolb trade is because the Cardinals were frustrated with his inability to get everything out of his ability.  That's why they drafted LSU's Patrick Peterson in the first round and traded Rodgers-Cromartie.
This guy has made plays during these OTA's which leave you with your mouth open, but he doesn't look to dominate receivers like the best cornerbacks in the league do.  He doesn't have the physical strength in his upper body to pull the football out and man handle wide receivers the way he could.
There's no reason why he couldn't have added 10 to 20 pounds of muscle to his frame during his four years in the NFL.  He looks better now in the 7-on-7 drills with no pads on, but he won't shine as much when they put on the pads.
I hope Bowles pushes him to get better to be great and that begins by getting in the weight room.  He's a poor tackler because his upper body is so weak.  If he were to really hit anybody with his weak upper body, his shoulder would pop out.
If Rodgers-Cromartie were to get stronger, the Eagles could take away both wide receivers on some routes by playing press technique on both sides with DRC and Asomugha.  They would easily have one of the best cornerback combos in the league.
DRC can only be as good as he wants to be.