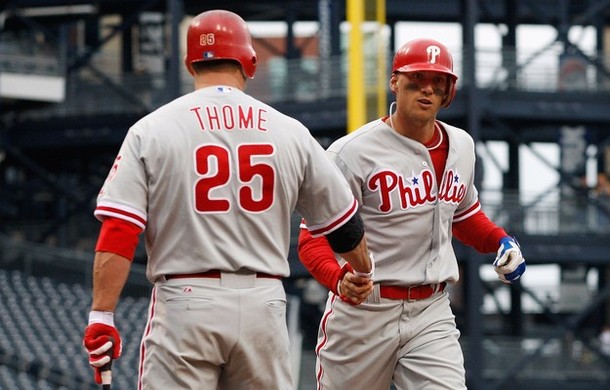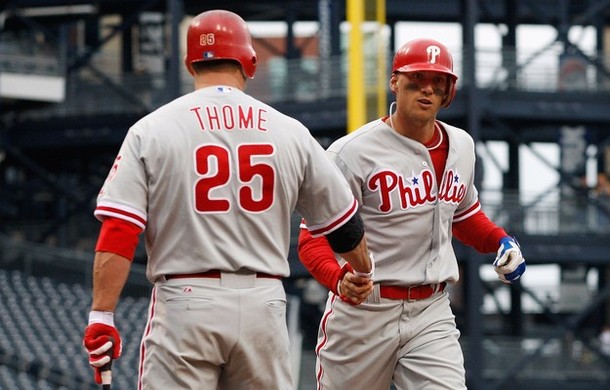 The Phillies snapped their six-game losing streak on Friday night, defeating the Orioles 9-6 in Baltimore. The Philadelphia offense did all of their damage in the first four innings, and created a lead large enough to end the Phillies' victory drought.
Joe Blanton's excellent pitching is but a distant memory. Tonight's game was the sixth straight start that he's given up at least five runs. The righthander has destroyed any hopes the Phillies might have had of moving him at this year's trade deadline.
Even with the large lead, it was a little surprising to see Charlie Manuel try to squeeze seven innings out of Blanton tonight.
As bad as Blanton was, Baltimore starter Jake Arrieta was that much worse. He lasted just four innings, giving up nine runs on 11 hits.
It took 60 games, but the Phillies finally got a meaningful contribution from Jim Thome. The veteran slugger got a start as the team's DH, and went 3-5 with an RBI (just his first of the season) and scored two runs.
Thome can contribute as a DH, but once interleague play ends, how much is he worth to this roster?
Shane Victorino enjoyed one of his strongest games of the season, going 3-4 with five RBI's. The centerfielder had been struggling at the plate, and earlier in the week commented that his contract status had been on his mind. Guess what Shane, you aren't going to command much on the open market unless you shape up quick. Hopefully a night like this can get the 32-year old going in the right direction.
Jonathan Papelbon has been nearly automatic in save situations. He notched his 16th of the year tonight on just 10 pitches.
The Phillies as a team finally had a decent night with runners in scoring position, connecting on six of their 10 opportunities.