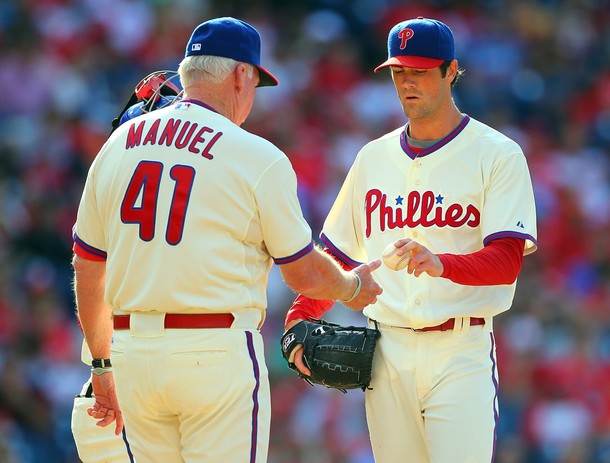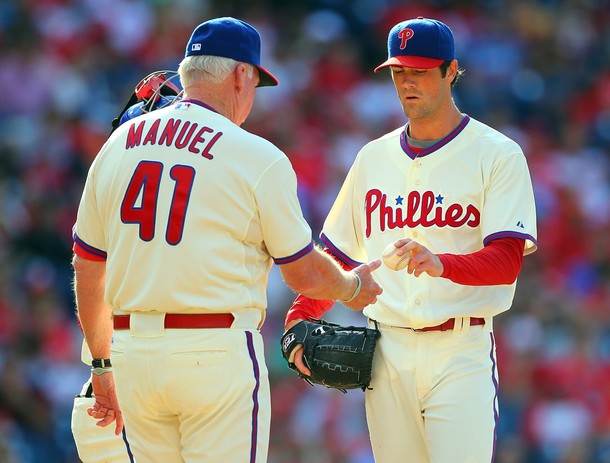 Through the first two months of the season, it wasn't pretty, but the Phillies were able to keep their heads above water, and stay within five games of the top spot in the N.L. East. They had been overcoming injuries and inconsistent play to stay relevant in a tough division. Just a week ago, the Phillies were a mere 2.5 games out of first place, three games above .500, and it seemed as though they might finally be turning the corner.
But now, things are quickly going south for the Phils.
Now the team has lost six straight games. They can't win a series against a quality opponent. They lost two of three games to one of their division rivals, the Miami Marlins, and were swept in a four-game series at home against one of the top teams in the National League, the Los Angeles Dodgers.
They can't take advantage of quality starting pitching. Cliff Lee pitched yet another gem on Tuesday night, but ended up with his third loss of the year instead of his first win. What does the lefthander have to do to get a victory this year? He's allowed three runs or less in seven of his nine starts, thrown 10 innings in a single game, and had two games with 10 or more strikeouts, yet he doesn't have a single win to show for it.
They can't hit with runners in scoring position. This has been a recurring theme all season. The Phillies have had few players step up in clutch situations most of the year. Hunter Pence, Jimmy Rollins, and John Mayberry were the three guys the Phillies were counting on to step up and be the focal points of the offense in the absence of Ryan Howard and Chase Utley, and all three have failed miserably.
They don't seem to know how to win games anymore. Thurday's loss to the Dodgers was the latest in another recurring theme of the 2012 season: the Phillies get ahead early, but let games slip away late. Countless times this season, the Phillies have gotten themselves a small lead, only to see it vanish as the game goes on. Either the offense has been unable to keep the pressure up and tack on more runs, or the pitching staff can't hold the lead for nine innings. Right now, the Phillies are finding more ways to lose than to win.
"We don't scare nobody," Manuel said after Thursday's loss. "We used to have a swagger. We used to be kind of cocky in a real good way. Teams used to definitely fear us. I definitely don't see that fear no more. I'm sorry. I'm answering the question very honestly. I don't see where we scare nobody. Nobody backs down from us. Matter of fact, they come right at us. They take it right to us."
Manuel's words display just how much of a step back this team has taken in 2012. In years past, the Phillies used to have a lineup that could overcome any lead held by the opponent. Last season, they had an imposing pitching staff that made up for a flawed lineup, and the team played with enough swagger that they won a franchise-record 102 games.
But this year? Its a team that has regressed into mediocrity. Its a team that has a disabled list worth over $60 million, and a patchwork lineup complete with underachievers. Its a team that is beginning to see their flaws catch up with them, and put them in serious danger of missing the playoffs for the first time in five years.