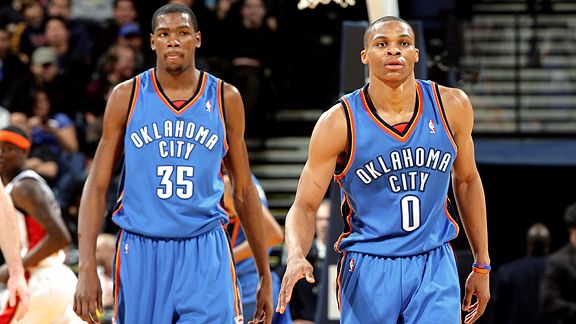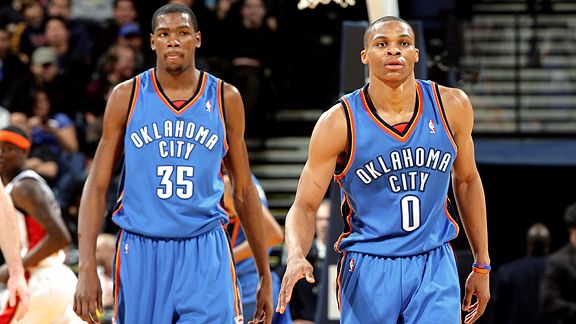 The NBA Finals are finally upon us and, as many expected during this condensed season, youth has risen to the top. In a battle of elemental fundamentals, the much scrutinized Miami Heat will have their second shot at raising a banner in the East, while the ever-maturing and largely adored Oklahoma City Thunder will represent the West and attempt to realize their potential just three short seasons into the OKC era, leaving the city of Seattle to look on with mixed feelings.
Neither team got to the Finals without first weathering the last stand of a couple of the league's elder statesman in Boston and San Antonio, but this is arguably the first time during this post-season where Miami and OKC playing a team built to run the floor with them. This should make for a series that could at times resemble a track meet more than a basketball game, and it makes for some interesting matchups on both ends of the floor.
The most intriguing matchup by far will pit everyone's favorite second pick of a draft, Kevin Durant, *shakes head at Portland* against the world's most reviled first pick, LeBron James. I'm curious how often these two will actually be guarding each other. With all respect to Shane Battier, I'm hard pressed to find a player more capable of at least making Durant work for his points than LeBron James.
Durant's game seems to become more well-rounded by the season and this year he's really been rising to the challenge defensively, making the effort to check the league's elite. I doubt very much Scott Brooks will have Durant guard LeBron for any extended period of time, as Harden will likely draw Wade (and Sefolosha the daunting task of James) but down the stretch it would surprise me if Durant requests to guard James and (because LeBron struggles to do late it games) rises to the challenge.

Now, for all the flack that LeBron James takes for his inability to make (or even take) clutch shots late in games, let's not forget whom we're talking about here. I dislike the guy as much as the next sports fan with a pulse and a television, but he makes the term "beast mode" almost seem appropriate for use in sports journalism. The luxury of LeBron is his ability to be so dominant in games that the final minutes aren't important. As if it was in doubt, LeBron's performance in Boston proved that he's more than prepared to step up in big game situations, but he's yet to prove that he's up for the big moment.
Dwayne Wade has proven himself capable of brilliance time and time again, James Harden is OKC's most well-rounded (not best) player, and Westbrook is showing naysayers that his shoot-first-have-it out-with-KD-later point guard philosophy can be successful, but I think the most compelling matchup in the finals well be the Bosh/Ibaka matchup.
As fun as it can be to mock Chris Bosh's emotional, don't-dive-because-you-might-hurt-me attitude, he's an invaluable cog in the Miami offense as their only post and mid-range scorer who compliments James and Wade perfectly. His ability to step out, board, and straight up make teams pay for over helping makes him Miami's X-Factor. What's scary is that he seems to be playing with a chip on his shoulder for the first time in his career. Look out, he's not just happy to be there anymore.
Serge Ibaka makes for some of the most highlight worthy defensive plays in the NBA, on top of that he's really perfected a mid-range jumper that, during the Laker series, made Bynum and Pau look like second fiddles to the Perk-Ibaka tandem in the post. Given Miami's lack of interior scoring, look for OKC to go small again as they did in San Antonio. His ability to check Bosh, patrol the paint, and hit open jumpers could pay championship dividends.
For all their differences in personnel, these teams are built to win in a pretty similar fast-paced fashion. Neither team is especially deep, with a roster centered around three scorers and a bunch of blue collar guys who know their respective roles, and this series could go either way and will be hotly contested. With that said, I give a slight, but distinct edge to the Thunder heading into the series. With the exception of Battier's performance in game 7 of the conference finals, I've yet to see any of Miami's gunners step up and consistently hit the shots afforded them by James and Wade's penetration. I will say that Mario Chalmers' play has been drastically undervalued, and he may be due for a coming out party similar to Jeff Teague's rise to relevance against Derrick Rose last season, but as I mentioned before, Miami is facing a mirror image of themselves in the athleticism department. As a result, if this series becomes essentially a battle of "Big Threes", OKC's trio compliments each other a little better than the three amigos of South Beach.
On the OKC end, I think the Thunder learned a lot from the Spurs about how to play as a team and share the ball. To take such a shot to the mouth from San Antonio (with emphasis on Game 2) and recover so quickly (and thoroughly) is a testament to that team's character and coaching. I kind of feel like the Thunder said "if you can't beat them, join them" and their more unified offense makes them a scary team that I feel has one or two more dimensions than Miami that may prove to be the difference.