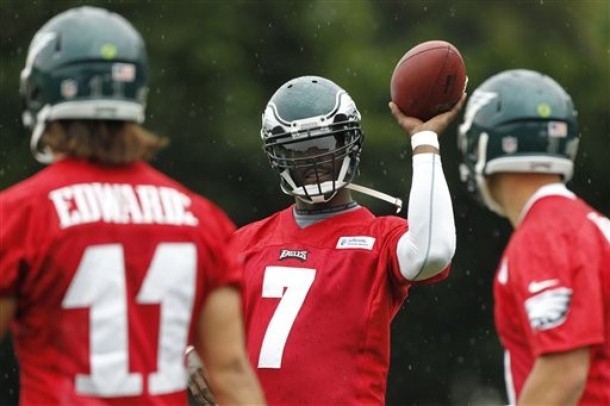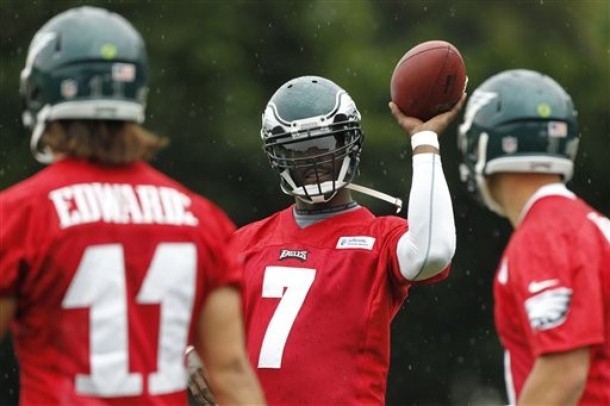 On one play Eagles quarterback Michael Vick dropped into the pocket, looked downfield but was unable to find anybody open, so he decided to tuck the ball under his arm and take off.
Third-year defensive end Brandon Graham was in hot pursuit of the quarterback, as number seven hit the afterburners and was trying to escape down the sideline.  Graham has tremendous speed for a defensive lineman and he was showing all of it during this play.  He was forcing Vick to use every bit of speed he had to escape.
They were running like it was a game.
The rain sent the Eagles inside earlier today, but it didn't dampen the enthusiasm of their practice.  Vick and his receivers started out hot but cooled off as the practice went along, as the Birds defense put some of their team speed on display.
The entire squad is putting everything they can into these three workouts this week, knowing that these are the last total team workouts before they report to training camp in late July.  Both Vick and his head coach Andy Reid have let the entire team know the importance of these practices, so they're going through these workouts with the energy and intensity of a game.
"It's all based on what's taking place throughout the organization", Vick said after practice. "For us, we just feel like we should have accomplished a lot last year. Like I said, we just want to have fun and be the best that we can be. We want to work hard to get there. We know it's not going to be easy, but we're going to work at it."
"You saw that last year", Reid said when asked about the energy and enthusiasm of the Eagles defense. "I think that's something that they've carried over into this year. The d-line starts it off, and the o-line, even though they can't really compete right now, keeps it loud and exciting. It's a good atmosphere. There's no pads on here so they can't really compete. With the back end guys, it's just contagious and it carries on into the linebackers and the secondary. Those guys can compete. They can't do bump-and-run, but they can compete. Likewise on the offensive side, the guys are challenging each other and trying to get better."
It wasn't great a practice from a completion standpoint, as Vick and his receivers continued striving to get on the same page.  There were a number of errant passes, and a few times the quarterback threw the ball one way and his receiver had read the coverage differently and went the other way.
They've put in a great amount of the offense and as usual the defense is ahead of them,  but everybody is working hard because they know what's on the line.
"We just feel like we just need to go out and compete this year", Vick said. "Mentally, we have to gear ourselves up to go out and be the best that we can be. We didn't have this opportunity to be together last year, and now we have this chance to build this camaraderie every day and to have fun while we're doing it. We're all learning and we have all our coaches here. [Offensive line] coach Howard [Mudd] is here after being gone the past four-five months,  get him back and have him around. We're all pumped up again."
I take my hat off to the Birds and the effort they're putting in during practice, but they've got to get better.  It's still very early so they have time to get the job done.  We'll keep you posted.