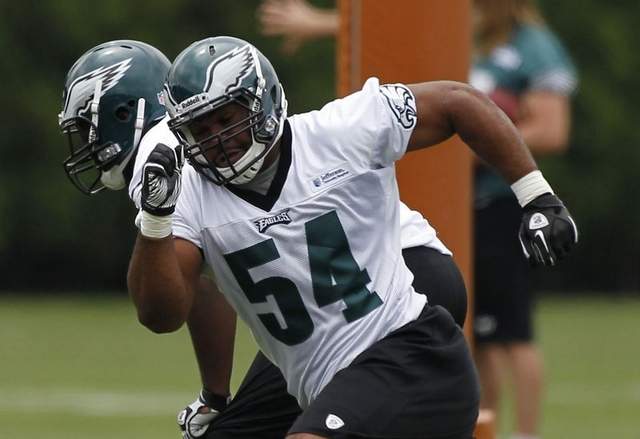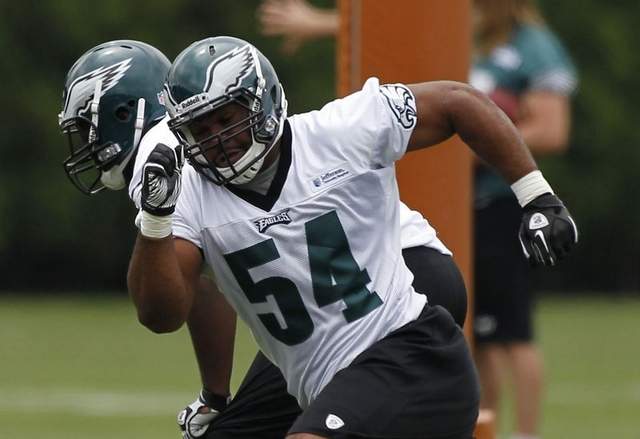 Former number one draft pick Brandon Graham has been especially active in these OTA's.   The third-year DE  has grabbed my eye a number of times with his quickness and explosiveness off the ball during these workouts.
Quite a few times during the part of practice where the offense takes on the defense, Graham is getting off the ball so fast, that he's been blowing by rookie Dennis Kelly before he can get out of his stance.  The ball is snapped and Graham has been able to head straight for the quarterback as if there was no one blocking him.  Kelly, the humongous rookie offensive tackle who was drafted in the fifth round out of Purdue, doesn't even have a chance against Graham.
This is the explosiveness that we saw from him a number of times during his rookie season and in his first training camp.  He's got to be explosive to have any chance for fulfilling his potential.  Graham isn't tall and has short arms when compared to other NFL defensive ends, so he can't use the classic pass rush moves.
He's got to be faster and more explosive than the bigger defensive ends to have any chance of being successful as an NFL pass rusher.   I'm happy to report that more than a year after having microfracture surgery, Graham has his explosiveness back.
I also think he looks powerful and capable of bull rushing offensive tackles then marching them right back into the quarterback's face.  At his height, the bull rush is a great move.  I would like to see him add another move or two to his repertoire, maybe a nice spin move similar to Dwight Freeney.  Graham happens to be built like him.
His number 54 jersey has jumped out at me quite a few times during the workouts, when I've seen him explode out of his stance or in pursuit of the football.
I could see it yesterday when he turned to chase Michael Vick, who had decided to vacate the pocket and run down the right sideline on a scramble.  Graham was on him "like white on rice" and forced the speedy quarterback to use every bit of his speed to escape.
Graham knows about the shadow of Giants Pro Bowl defensive end, Jason Pierre-Paul, which he has following him around for the rest of his NFL career.   The former University of Michigan All-American has been called a bust and even accepted it himself in order to create the type of burning inside that will push him to be his best.
"All this is motivation, man," he said yesterday after practice. "It's hard not to pay attention to what people are saying because you hear it every day. Everything is motivation to me. Because everything was negative towards me. Because I couldn't do nothing. I hurt myself and couldn't play last year so I heard all the negative things you probably could hear.
"But at the same time, until you can do something about it …"
He needed a kick in the butt, so Eagles head coach Andy Reid and GM Howie Roseman have given it to him, by stocking the roster with plenty of pass rushing defensive ends.  The Eagles already had Trent Cole, Jason Babin, Darryl Tapp, and Phillip Hunt, but they added second round pick Vinny Curry to that group.
Anybody who can count, can see that they can't keep everybody.  Somebody has got to go.  They've clearly given Graham an ultimatum, put up or move on, and he's gotten the message.  He's also responded to the attacking style of defensive line coach Jim Washburn, who has his linemen playing a fever-pitch, even in off season workouts.
Number 54 is twenty-pounds lighter than he was a year ago and he's motivated.  He wants to prove that there was a good reason for the Eagles to draft him in the first round a couple of picks ahead of Pierre-Paul.
"I just told myself every day to block it out as best as I could," Graham said. "And work at the little things I needed to work to get back. And now that I'm back I'm feeling real good. And I just can't wait."