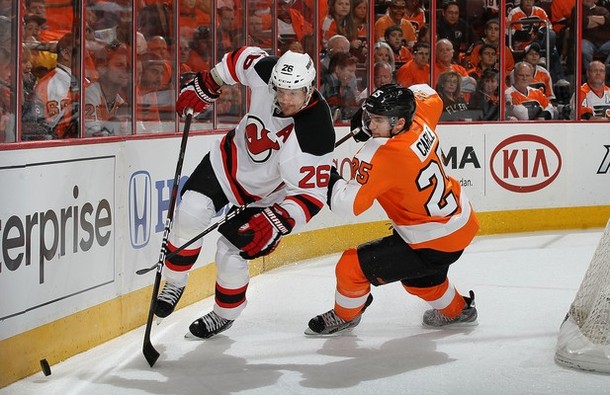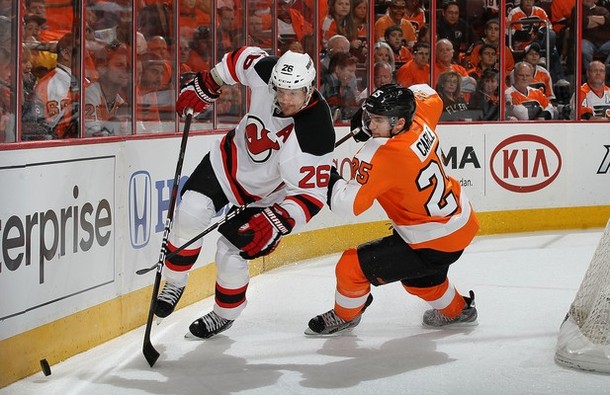 With the 2012 NHL Entry Draft a week away and free agency looming soon after, there have been a variety of news stories reported that touch on the past and future of the Flyers. For the sake of brevity, I've hit many of the major points below.
Darren Dreger of TSN reported via twitter, "No hip surgery necessary for James van Riemsdyk. Expected to be fully recovered in time for training camp."  The rumor from Howard Eskin that JVR was avoiding surgery to delay a trade, reported earlier this week, appears to be false.  He also went on record with Dave Isaac that this was untrue, stating, "I love the group of guys here and management has treated me well.  Obviously I want to stay here, but at the same time it is a business and you never know what can happen. I know what kind of player I'm going to be and what I can bring at this level. Whether that's here or somewhere else, I know I'm gonna be a productive, successful player. That's really all I have control over."

Of course, this doesn't mean Eskin is "wrong" that JVR could be headed to Columbus in a trade for Rick Nash, as much as the report that JVR was trying to block it was incorrect.

Tim Panaccio of CSNPhilly reported on Thursday, "According to a well-placed source, [free agent defenseman Ryan] Suter has a potential list of clubs he would be willing to talk to even if his rights were traded before July 1. Suter is represented by Neil Sheehy.  Alas, the Flyers are not one of them.   In fact, the source said, all of Suter's preferred destinations, should he leave the Predators, are in the Western Conference – not the East."

Michael Russo of the Minneapolis Star Tribune, however, reported via twitter, "I talked to Ryan Suter's agent Neil Sheehy.  Reports Suter has supplied list of teams he'd allow his rights to be traded to are '100% untrue' ".  Take that for what it's worth, but many expect him to sign with either Nashville or Detroit.

Dustin Leed of The Hockey Guys reported that the Flyers could be closing in on Matt Carle to to the tune of "three or more years at over $12.75-million." If Carle is willing to re-sign for under $5 million, it's worth it to keep him in the fold and trade for a new defensive partner rather than worry about Ryan Suter.
Teemu of Broad Street Hockey reported via twitter that former Flyers goaltender Antero Niittymaki is considering retirement due to lingering hip problems.  In the final year of a recent contract with the San Jose Sharks, Niitty missed significant time with the Sharks starting in September 2011 as a result of a re aggravated hip injury. He was eventually placed on waivers without any warning from the Sharks organization, leading him to tell the media, "I don't want to be in this organization at all anymore, nothing wrong with city.  Glad they did it, hope somebody picks me up."

Nobody picked him up, and he was eventually loaned to the Syracuse Crunch of the AHL, where he earned a 2-5-0 record and 0.867 SPT.

Kyle Scott of Crossing Broad posted information from a reader that the house Chris Pronger was living in, rented from former Flyer Jason Smith, now has a "for sale" sign. Take this for what it's worth.
As reported here a few weeks ago, the Flyers have plans for a new head coach for the Adirondack Phantoms.  No announcement has been made yet, but that may have been a result of assistant coach Craig Berube interviewing for the head coaching position of the Washington Capitals. Chuck Gormley of CSNWashington reported that Berube is no longer in the running. "I thought everything went well and I actually thought I'd get it," Berube said. "I'm not sure what happened."

Former Flyers head coach John Stevens is still in the running for the position.

I wouldn't expect an announcement on the next Phantoms head coach until after the draft.  The Flyers will likely want to have the coach in place before the rookie development camp on July 8, though.
For the latest Flyers news and updates, you can follow me on twitter (@JoshJanet).