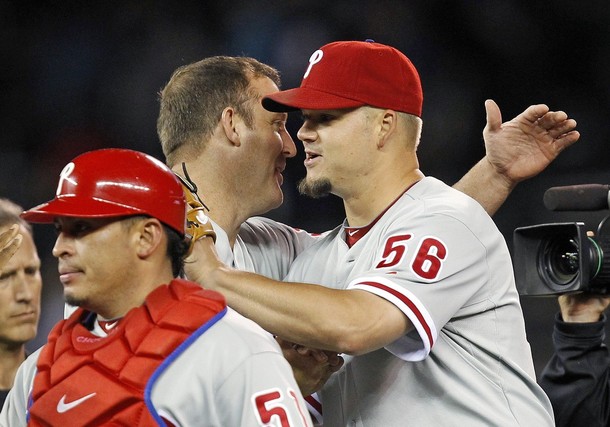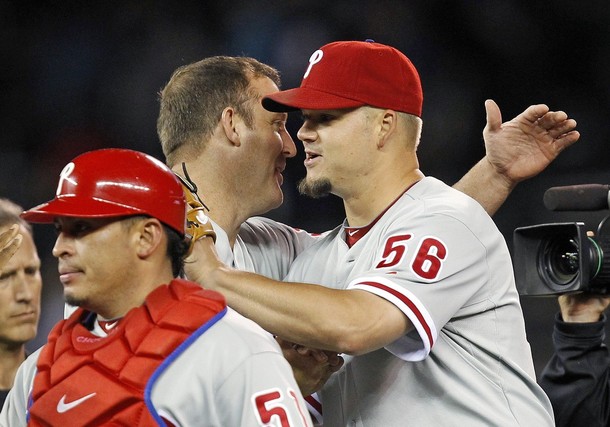 The Phillies won their second straight game on Thursday night, taking down the Minnesota Twins 6-1. Its the first time the team has won two in a row in nearly two weeks, and they gained half a game in the standings on the idle Washington Nationals.
The Phillies were anchored in this game by an excellent pitching performance from Joe Blanton. The righthander threw a complete game, allowing just one run on seven hits.
It was first time in five starts that Blanton has allowed less than five runs. He lowered his ERA from 5.40 to 4.93. The Phillies need him to regain the form he displayed earlier in the season.
Jim Thome is on fire right now. The big fella hit a three-run homerun in the third inning that gave the Phillies the lead for good. The team has already stated that Thome won't play the field anymore, but given his performance in the last week, they may have to reconsider that position. They're clearly a much better offense with a traditional cleanup hitter.
Thome is 11 for 24 (.458) with two doubles, three homers, 13 RBIs, three walks and seven runs in the last week.
Jimmy Rollins went 3-5 and scored two runs. It was the second time in three games that the shortstop has had at least three hits. His batting average has risen to .257.
John Mayberry was unable to build on his four-RBI night. He followed up that effort with an 0-3 performance last night.
The Phillies did well to win the final two games of this series. The Twins were a team that they desperately needed to take at least two games from.