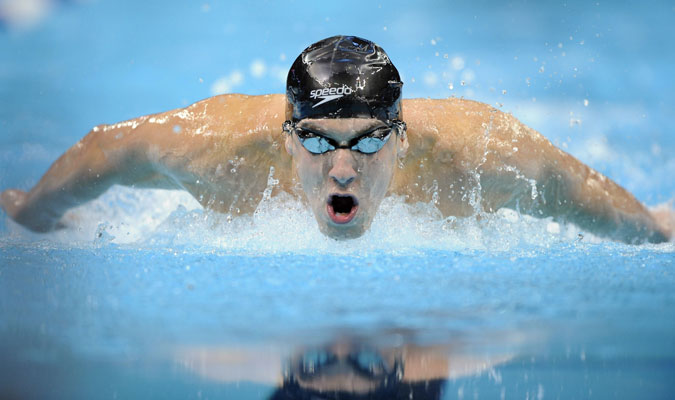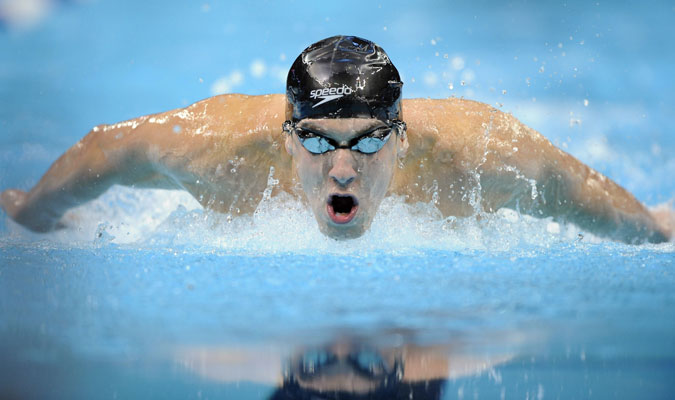 I will be the Olympic correspondent until mid-August. I will cover as much as possible keeping a close eye particularly on sports such as Track and Field, Gymnastics, Basketball and Swimming and the all important medal count. We are still a few weeks away from the opening ceremonies, but U.S. Olympic trials will be underway shortly so it's time for the first installment.
A brief disclaimer; swimming is of my most expertise, and I studied and lived in the host nation for four months. Of course I will stay up on all the local action going on as well.
One of the greatest sporting events is set to open in 37 days as prominently displayed by a large clock in Trafalgar Square in downtown London counting down the days, minutes and seconds until the opening ceremonies to take place on July 27th.
The games of the XXX Olympiad will feature not only some of the best athletes in the world but also some of the greatest Olympic athletes of all time. The games will host 302 events in 32 sports in 17 days.
While the games do not start for about another six weeks, the U.S. Olympic trials for several sports will be held next week including swimming, diving, Track and Field and Gymnastics.
One athlete that will be competing in trials, but certainly will not have any trouble making the Olympic team is 14-time Olympic gold medalist Michael Phelps. In 2008 Phelps had one of if not the most incredible Olympic performances of all time winning an unprecedented 8 gold medals in a single Olympics topping the previous 7 gold medal performance by another American swimmer, Mark Spitz in 1972.
Since Phelps' heroic Beijing performance in which he swam 17 events in 9 days many have wondered and speculated what kind of schedule Phelps would take on for London. Phelps' plan for 2012 has been kept a tight secret by him and coach Bob Bowman partly to do with Phelps' varying state of commitment and condition immediately following the 2008 games. In fact Phelps contemplated retiring after his astonishing performance.
Yesterday things became a little clearer as to what Phelps might take on. The Baltimore Sun reported yesterday that Phelps, the Baltimore native, will swim seven events at the U.S. Olympic trials in Omaha, the same amount that he took on at the 2008 trials.
Assuming that Phelps is chosen for three relays that leaves Phelps with 10 events, there is no way that Phelps, who turns 27 during trials, will take on a 10-event schedule in London. Expect Phelps to take on a six or seven event course. Phelps is only two career medals away from becoming the most decorated Olympian of all time passing the current mark of 18 held by Russian gymnast Larisa Latynina.
So what events will Phelps take on? This is a hard question to answer simply because there are variables to consider when trying to answer this: This is Phelps' last Olympics, will Phelps swim IM events/will he take on new events. It is easier to narrow it down to what Phelps will not swim than what he will. The events that he will likely drop from his previous Olympic lineup would be the 400-meter IM and 200-meter IM. Phelps has been on record saying that he is done swimming the 400 IM.
It is hard to imagine Phelps not taking on this race simply because it has turned into one of his iconic races in which he displays his dominance in the four stroke disciplines. In 2008 Phelps swam this race in a ridiculous 4:03:84. If you're not familiar with swimming, this record will never be broken. So that leaves the less grueling 200 IM, the only thing that would prevent Phelps from taking on this event is the fact that he is not the best in the world at this event anymore, that belongs to his fellow American Ryan Lochte. This is a tough call for Phelps because on one hand this is his last Olympics and he does not swim for second place on the other hand we are talking about Michael Phelps, this dude backs down from no one.
The 100-meter butterfly is another questionable event for Phelps again because he narrowly escaped with gold twice. Once in 2004 where he narrowly defeated American teammate Ian Crocker by .04 seconds and in 2008 by the slimmest of margins, .01 seconds, against Serbian Milord Cavic.
Two events that you can book that Phelps will swim are the 200-meter butterfly and the 200-meter freestyle. The 200 butterfly has become Phelps' signature event. It seems every time he swim this event he claims that it is the worst he swam the event yet still blows away the competition. In short, Phelps still dominates this event even when he doesn't have his best swim. Similarly to the 200 butterfly, the 200 freestyle is another event that Phelps has pretty much owned since taking home a bronze medal in Athens in 2004. In 2008 Phelps blew away the field in this event winning by just under 2 seconds and in world record time. In 2009 however at the FINA World Championships in Rome, German Paul Biedermann crushed Phelps and his world record while wearing a controversial swimsuit. Phelps' rival Ian Thorpe, a former world record holder at this event, came out of retirement to challenge Phelps at this event and failed to even qualify for Australia's Olympic team. Look for Phelps to dominate this event in world record fashion.
Phelps will perhaps have to be the most careful when choosing his events for next months games because it will be his farewell tour. Although people will always remember Phelps for his magical 2008 run, 2012 will be how he cements his legacy.