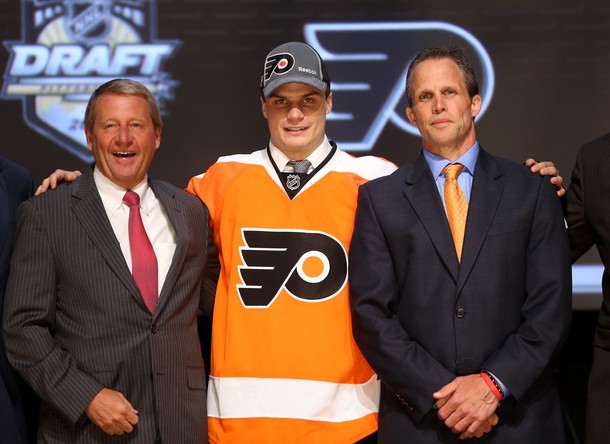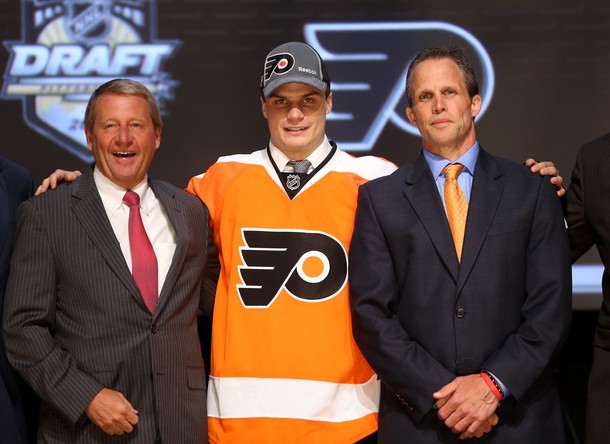 "Well, I was going to thank the City of Pittsburgh, but… the Philadelphia Flyers are proud to select Scott Laughton."
That was general manager Paul Holmgren, addressing the smattering of boos from Pittsburgh fans by drafting a player that should be following in Sean Couturier's footsteps as a pain in their collective behinds.
Laughton was a bit of a surprise when his name was called, but scouting reports suggest that this is a player who fits very well in the "Flyers mold." Laughton, a teammate of the Flyers' 2011 4th round pick Colin Suellentrop on the Oshawa Generals, is a defensive-minded two-way center. He doesn't have a towering build or elite offensive skills, but his character and overall play suggest he'll have a very long NHL career.
From Sean Lafortune, director of scouting at TheScout.ca: "Laughton may be the smartest, most competitive draft eligible player for the NHL Draft. He always brings a high complete level, and is the kind of player who is willing to do whatever it takes to win. He will block a shot, make a strong offensive play, back check or drop the gloves if it could equal team success… There isn't a lot not to like about Scott Laughton. He has everything you look for in a centre at the next level."
In other words, he projects to be a very good second or third line center. The Flyers don't necessarily have a "need" for another center, but at the end of the day, it's better that they took a respectable pick than a stretch one. Laughton has been described as a good candidate for future NHL captain, so it's easy to see why Holmgren selected him at the position he did.
Laughton finished the 2011-12 OHL season with 21 goals and 53 points in 64 games played.
Holmgren did try to move up in the draft, as many of the selections after the 3rd overall pick were unpredictable. He couldn't get anything done though, and the closest he came was to trading with the Calgary Flames. The Flames traded the 14th overall pick to the Buffalo Sabres for the 21st and the 42nd; the Flyers held the 20th and the 45th.
At the very least, Laughton may make center Nick Cousins, drafted in 2011 at #68 overall, "expendable" in a trade for a defenseman. Holmgren told Philadelphia beat writers he "might have something cooking" and was seen speaking with Nashville Predators general manager Dave Poile.
The fun continues tomorrow morning as rounds two through seven take place. For the latest Flyers news and updates, you can follow me on twitter (@JoshJanet).