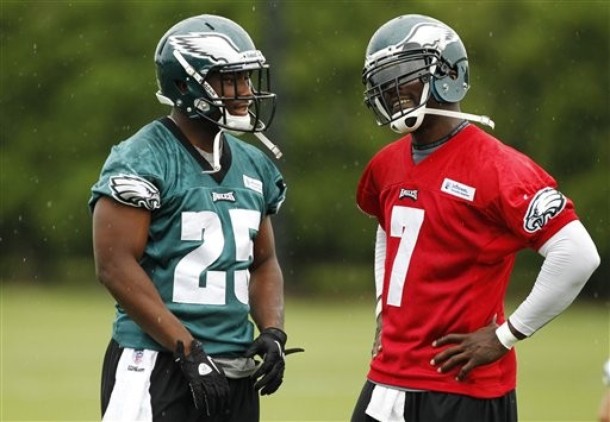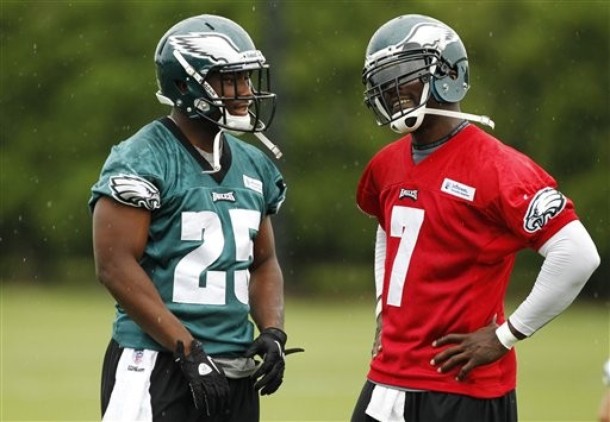 Michael Vick had a very busy day yesterday, and will have an even busier week.  Today is his 32nd birthday and he'll be getting married this weekend.  On Monday, he talked to this year's NFL rookies at the rookie symposium and later talked to the NFL Network about the Eagles and this upcoming NFL season.
Vick spoke confidently when asked why he was so sure 2012 would be much different than 2011 for the Eagles.
"The team that I'm on now we fill like we're one of the best teams in the league and we feel like we can play with any team in this league on any given Sunday", Vick said.
"I just feel like I'm in more control of our offense and what we can do.  The more relaxed you are the more confident you are it allows you to go out and play good football", the Eagles star quarterback said.
Vick let this year's rookies know that they may be great players, but the NFL made it without in the past and could make it without them, now.
"The game is going to go along, with or without you," Vick said. "You control your destiny. You dictate how long you're going to play in the league. It's all up to you. It's about commitment, dedication, preparation."
Vick let the youngsters know that they should take NFL Commissioner Roger Goodell seriously when he says he will protect the NFL shield.
"Fellas, don't get it twisted," Vick said, via Jeff Darlington of NFL Network.  "This man is the real deal. He don't play.  If he asks you a question, answer with honesty.  Tell him the truth.   If you get into some trouble, be honest, truthful, forthright.  Don't play with this man.  He'll love you to death, but the minute you cross him, he'll be all the way turned up."
The Birds signal caller shared his experience of having to go to prison because he didn't appreciate his place in the league as a franchise quarterback.
"As I sat in a prison cell, I understood why I was in there. That's bad. You don't want to end up that way. True story: I could see it all coming. I could see it happening. I thought about it. I asked myself, 'Should I stop doing what I was doing?' And I didn't stop. That's having no discipline.
"Sometimes you think you know it all. You've got a lot of learning to do, a lot of life to live, people you're going to come in contact with. You've got to make a decision: Should I trust this person or that person? It's going to be difficult. You've got to lean on certain people. Find that one person. One or two people who can steer you in that right direction."