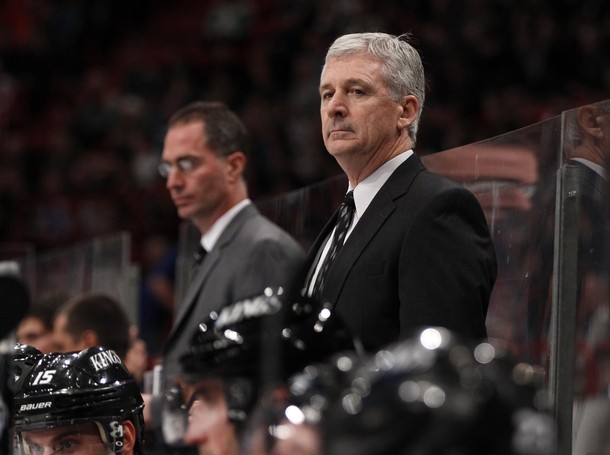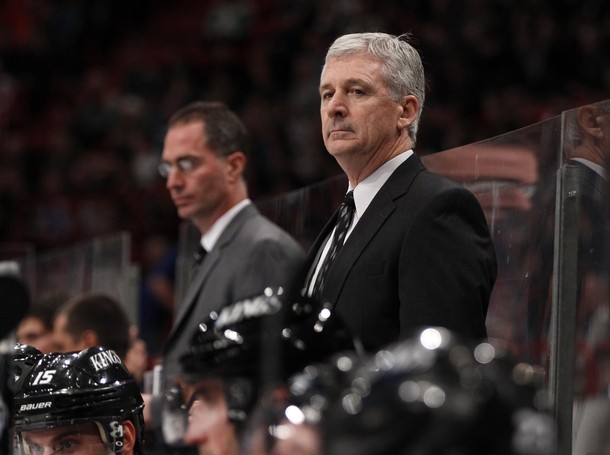 "I'm very happy for this opportunity… Hockey has been my life and I can't think of a better place to continue to work in what I consider to be the greatest job that a man can have."
That was former Philadelphia Flyers coach Pat Quinn, accepting the head coaching position of the Edmonton Oilers in 2009. Quinn had been coaching junior teams for several years before getting the call from Oilers management to replace head coach Craig MacTavish.
For Terry Murray, that was inspiration enough to agree to coach the Adirondack Phantoms.
The Flyers announced today that their former player (twice) and coach (twice) would be returning to the organization for a fifth time to replace Joe Paterson as the head of their AHL farm team.
They also announced that Ian Laperriere would be continuing his mentor role in the organization, begun two seasons ago as concussion issues prematurely ended his career.  He'll have the official title of "Director of Player Development."
Murray was fired from the Los Angeles Kings on December 12 as the Kings' record stumbled to 13-12-4 out of the gate. He was responsible for a 139-106-30 record in his 3 ½ years on the west coast, but the team struggled and, as the saying goes, it's easier to fire the coach than the team.
Tim McManus of the Post Star was the first reporter to interview Murray on his decision.
"Well, I got a call from Paul Holmgren before the draft…  There wasn't a lot of stuff coming in from the NHL teams after I got fired in L.A. The phone rings for about four or five days and then it goes silent, and there was nothing up until Homer called me. I took some time to think about it, and I was thinking back over some of the coaches that I've played for, and I remember seeing Pat Quinn coach the Canadian world juniors in Ottawa a few years ago. He's a coach that I have a great deal of respect for. He took a step back and coached junior hockey and did a tremendous job. He got himself back in the NHL, he ended up in Edmonton after that. He's a guy who loves to coach, and that's what I am. I'm a hockey coach, I love to coach. When Paul presented it to me, in the way that he did – coming back to the Flyers in particular was very exciting, and I feel like it's a great opportunity to work with young players and again, it's just a wonderful challenge and I'm looking forward to it."
It was a great series of questions from Tim, questioning exactly what Murray would bring to the table and what he hoped to achieve.
I initially accepted this news with trepidation. The Phantoms have been convincingly unsuccessful in the last few years, beginning with a caustic locker room environment that festered under coach Greg Gilbert.  Paterson was very good as his replacement, building the team into a more unified group and preparing countless players for call-ups last season to the Flyers.
If Murray is going to take the helm, he can't approach it as just a pit stop on his way back to the NHL.  It has to be a full commitment to not just enforcing Peter Laviolette's coaching system, but bringing out the best in each prospect. No more third period blow-outs against the Springfield Falcons, no more trailing from behind the Hershey Bears, and for the sake of the fans supporting the team in Glens Falls, no more missing the playoffs.
Based on Murray's responses, he doesn't sound all that prepared for the position, but he has the enthusiasm.  He will have added coaching support in Riley Cote and Kjell Samuelsson as assistant coaches, along with Laperriere, to familiarize himself with the players in the system.
Murray, who turns 62 in July, also brings with him a career 519-428-118 NHL coaching record.  This isn't his first rodeo nor will it probably be his last.
Welcome back, Terry.
For the latest Flyers news and updates, you can follow me on twitter (@JoshJanet).