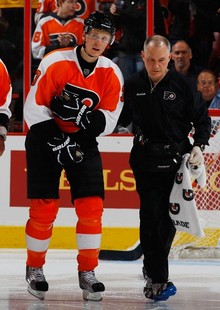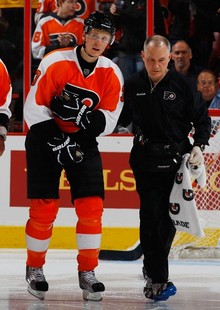 NHL free agency kicks off tomorrow at noon.  In anticipation of the big day, I've compiled the latest news that affects the Philadelphia Flyers.
The Flyers have placed defenseman Oskars Bartulis on unconditional waivers with the purposes of buying out his contract.

Drafted in the third round of the 2005 NHL Entry Draft, Bartulis appeared in three seasons with the Philadelphia/Adirondack Phantoms before eventually making the jump to the Flyers in 2009.  Bartulis posted one goal and nine points in 53 games that season, earning him a three-year, $1.8 million contract extension from general manager Paul Holmgren.

Bartulis appeared in just 13 games with the Flyers in the following year, and was waived at the end of training camp last October in favor of Matt Walker.

This is a "win-win" situation for all parties involved.  Bartulis can look to field offers from others teams, be they NHL (unlikely), KHL or European. The Flyers are on the hook for just $100K for the next two seasons, which should be manageable (depending on what Holmgren does in free agency) while gaining back additional contract space.

The Flyers also free up roster space at the AHL level for their remaining prospects in the system. There is already enough of a logjam in Glen Falls as it is, and burying Walker in the minors only adds to it.

Tim Panaccio of CSNPhilly is reporting that the Flyers are once again in talks with the Columbus Blue Jackets regarding Rick Nash.  I have to agree with Matt Brigidi's take on the situation, though- this is likely (and hopefully) just a move to raise the asking price for the New York Rangers, the anticipated destination for #61.
Highly sought collegiate defenseman Justin Schultz has signed with the Edmonton Oilers.  The Flyers were "in" on Schultz for all of thirty seconds.
Congratulations to blog Flyers Faithful for running a very successful ice hockey tournament to benefit the Ed Snider Youth Hockey Foundation.  I stopped by the tournament at the Skate Zone in Pennsauken to catch some of the action and got to catch a glimpse of Dustin Leed of The Hockey Guys tear it up. Actor David Boreanz also skated for the team captained by Dave Isaac… let's just say he shouldn't quit his day job.
For the latest Flyers and NHL free agency news, you can follow me on twitter (@JoshJanet).