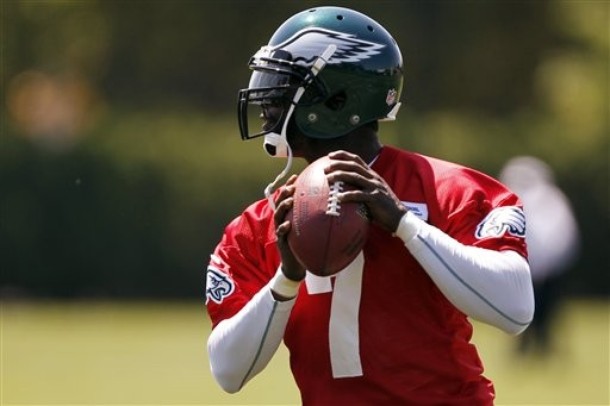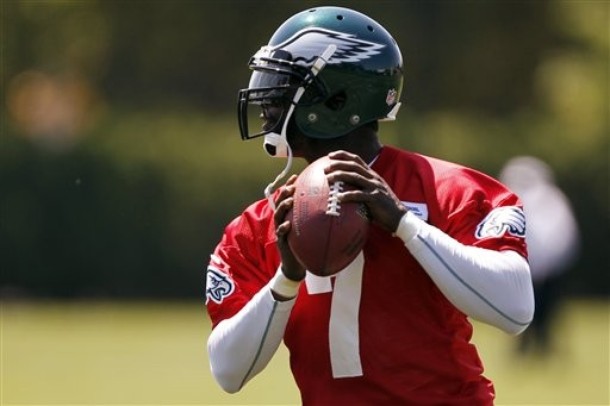 Former Eagles quarterback and current ESPN analyst Ron Jaworski rates current Birds quarterback Michael Vick as the 12th best quarterback in the NFL.  Jaws has been rating the top 32 NFL quarterbacks for ESPN's Sportscenter.  This can't make Vick happy, but Jaws did emphasize that this could be a big year for the former number one overall pick in the NFL draft.
Jaworski graded Vick number 14 mainly because of his 2011 performance which included 18 touchdown passes and 14 interceptions.  The Eagles finished with a 8-8 record and didn't make the playoffs.  Vick and the Birds offense struggled in the turnover category and had major problems scoring in the red zone.
The other major reason the former Eagles quarterback rated Vick so low was his inability to stay healthy for an entire season.  Last year back up quarterback Vince Young started three games because of Vick's injuries and the Birds lost two of them.
"The issue I have always had with Vick has been his willingness to run, to play the position outside of the pocket, outside of the structure of the offense," Jaworski said. "There's no question he'll always make plays, but he also leaves throws on the field."
Like Andy Reid, Jaworski wants to see Vick operate more from the pocket and reduce his scrambling.  Jaws doesn't see anything wrong with him scrambling after he's given the pass play a chance to work, but he wants to see Vick protect himself at the end of the run and avoid taking the big hits.
"I charted all of Vick's snaps last season," Jaworski said. "He was taken to the ground more than 11 times per game. You can't play 16 games that way. Vick always reminds me of something my former coach, Dick Vermeil, says: 'The problem with quarterbacks who can run is, they run.'"
In the end Jaws says Vick can be a classic pocket quarterback if he will focus on that area of his game and stay away from trying to make highlights with his scrambling.
"Vick has shown he is capable of throwing the ball exceptionally well from the pocket," Jaworski said. "His overall throwing skill set can be top five in the league. His objective in 2012 must be to play that way more often. It becomes an availability issue. You can't be an elite NFL quarterback if you can't be counted on every single week."