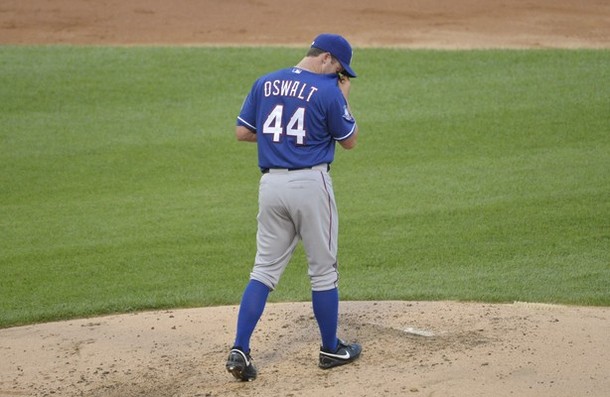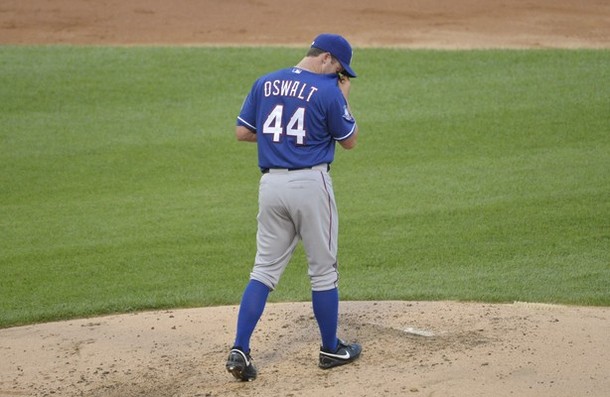 Jim Thome: Once again a former Phillie, Thome has hit just .238 with one RBI since his recent trade to the Baltimore Orioles.
Roy Oswalt: Oswalt has had a rough time since returning to the major leagues with the Texas Rangers. Though he's won two of his first four starts, he's given up 16 runs in just 23 innings, including a nine-spot against the Chicago White Sox. He's had two games in which he's given up 13 hits. The veteran may still be shaking off the rust, but his skills were already on the decline.
Jaime Moyer: The 49-year old wonder may finally have run out of smoke and mirrors. He got off to a strong start in 2012, earning a spot in the Colorado Rockies' rotation and going 2-3 with a 4.20 ERA in his first eight starts, but the wheels have fallen off for him ever since. His ERA had shot up to 5.70 after allowing 13 runs in his final two starts, and Colorado designated the lefty for assignment. Moyer is currently a free agent, and is still actively looking for work, spending a pair of brief stints in the minor league systems of the Orioles and Blue Jays.
J.A. Happ: Happ continues to struggle out in Houston. For the year he's 6-9 with a 5.14 ERA, and hasn't been remotely close to the excellent young pitcher the Astros thought they were getting when they traded Roy Oswalt to Philadelphia. It seems like ages ago that Happ was 12-4 with a 2.93 ERA for the Phils' in 2009, and was someone whom many fans thought the Phillies would regret trading. So much for that line of thought.
Brett Myers: Myers has put together a respectable year as the closer of Houston Astros. He's converted 18 20 save opportunities, and his 3.34 ERA is vastly inflated due to one horrid performance against the Kansas City Royals in which he was rocked for five runs on eight hits. There's a good chance he'll be pitching for a new team by the end of the month.
Michael Bourn: Bourn is having an excellent season for the Atlanta Braves, batting .311 with seven home runs, 12 doubles, six triples, and 32 RBIs. He's a true leadoff hitter, and still plays an excellent centerfield. He'll also be a free agent at the end of the season. Could the Phillies possibly make a run at him to replace Shane Victorino?
Chad Durbin: After a rough season with the Cleveland Indians, Durbin has found a new home with the Atlanta Braves. He's currently 3-1 with a 3.78 ERA, and has become a dependable reliever out of the Atlanta bullpen. Once an extremely dependable reliever for Charlie Manuel, a year ago Ruben Amaro thought so little of Durbin that he only offered him a minor-league deal to return to the team. Chad, we miss you, terribly.
Raul Ibanez: Ibanez got off to a strong start for the Yankees, hitting nine home runs and driving in 28 runs in the first two months of the season, but has been ice-cold ever since. He's hit just two homers and picked up only eight RBI's since May 28th. Is the veteran finally hitting the end of his line? You never know with Ibanez. He was the ultimate hot-and-cold player during his three seasons in Philadelphia; there would be months where he be insanely productive and carry the team, and there would be months where he couldn't hit the ball to save his life.
Kyle Lohse: Lohse has been a model of consistency and excellent pitching for the St. Louis Cardinals. He's kept his ERA below 3.00 all season, and is quietly one of the better seasons of any pitcher this season at 9-2 with a 2.79 ERA.
Kevin Millwood: Millwood has had a bit of a renaissance this season, going 3-6 with a 3.69 ERA for the Seattle Mariners. The last time the former Phillie pitched this well was in 2009 when he went 13-10 for the Texas Rangers.
Vincente Padilla: Padilla's carved out a nice role for himself in the Boston bullpen. He's appeared in 33 games this year (he played in just 24 in the previous two seasons) and has gone 2-0 with a 3.94 ERA.
Scott Rolen: Rolen hasn't improved much since we last checked up on him in May. He's raised his average from .174 to .178, and has just three homers and 16 RBIs for the year.
Bobby Abreu: After receiving his release from the Angels at the beginning of the season, Abreu has become a decent role player for the Dodgers, hitting .272 with two home runs and 16 RBIs off of the bench.
Wilson Valdez: Valdez hasn't done much good for the Reds, hitting just .232 with no homers and nine RBIs.