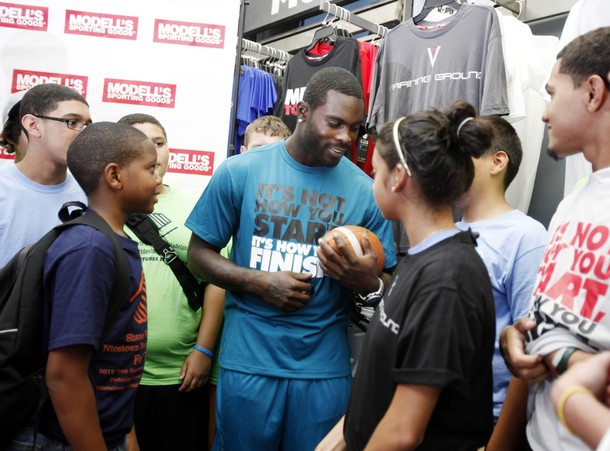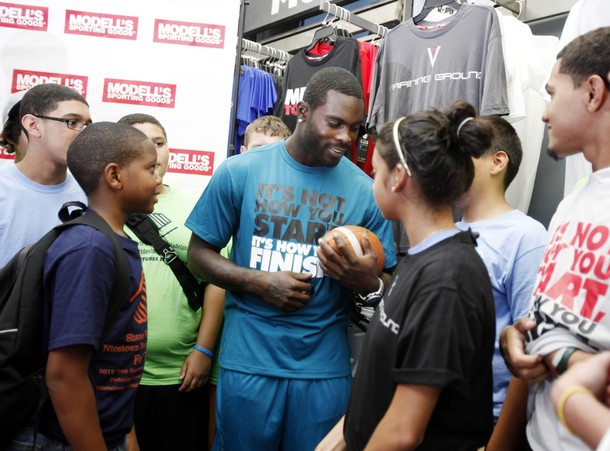 Michael Vick is making the media rounds to promote the release of his new book, "Finally Free". A great title that expresses, in my opinion, his view on where his life is now and the strides he's made to change it.
But in spite of his efforts to change many still continue to talk about Michael Vick and his past. Is his past fair game one writer asked last week? But I ask, is his past even relevant? I guess it might be if you don't have one, a past that is…or a life.
Are people (the sports world in particular) so bored that they have nothing else to do but throw stones and criticize a man who has made mistakes and paid for them? Or are they so lonely that they sit up at night thinking of new ways to be cruel, harsh and hurtful?
I'm so very thankful to these people because they've helped me to realize that Michael Vick is the only one in this life that has ever done wrong. It makes me feel very good about myself to know that if he is the only sinner then that lets me off the hook big time! He is the only wrong doer right? That's my take on these stories I continue to see printed all over the internet…again and again! They may take a break for a minute and then…"Oh yeah, Michael Vick, bad guy!"
It is opinion though. You have them, I have them, like the nose on your face, everyone has one. I guess it's just not sexy to have any kind of heart or any measure of decency and forgiveness. I'll say it again as I have many times before, if it was your brother or your sister, daughter or son, then you understand, even demand that others have forgiveness for them.
Vick knows he did wrong as he continues to fight an uphill battle, but has made huge strides and is constantly trying to right a wrong that many feel it is impossible for him to do. It was a very dastardly and heinous crime he committed against creatures of God. But he has expressed remorse whether we believe it or not and he served his time…so let it go! God has forgiven him but somehow we think, consciously or otherwise, that we're better than God and hold Vick's deeds forever against him. Last time I check there is only one God and none of us is Him!
The article I read earlier this week said that Vick is playing us all, going with the flow as not to jeopardize his lucrative contract, endorsements and even the possibility of going to the Super Bowl. Let me get this straight, now he's being criticized for trying to live right? The man can't win if he has to play by rules that continue to change. So, he can front as long as he gets us into the playoffs? What I hear there is, Michael Vick can be reprehensible and deplorable as long as he keeps it under wraps and gets us a championship. What moral hypocrisy.
You don't want your son to wear his jersey? Well I don't want my son wearing yours, get my meaning? Who cares if you don't want your child to wear a Vick jersey? That is your choice but you know what? I'd be glad for my kid to wear his jersey because that Eagles number 7 embodies hope. It's more than just a piece of a uniform but a representation of redemption and possibility. Reminder alert!!! We are not the ones handing out redemption slips!
Let's get to the business of watching football and let Michael Vick live his life. That is unless you want me to come to your house, and get behind your closed doors so that me and the rest of the world can know how perfect, faultless and blameless you are. Don't you realize that you're proclaiming universal innocence and guiltlessness when you speak of another's sins? Should we be allowed to dispute your silent claim of innocence?
"I run into so many people who feel like they don't have any hope after they make a mistake or after they can't overcome certain obstacles in their life." Vick said in a recent interview. "I just want them to know that there are several roadblocks you're going to run into," he said. "Even though you may fall, you have to get up."
Well said Mr. Vick! 
What do people have to look forward to when they fall if they think and feel there is no hope for them and that any attempt to get up is useless? See, that's the lie, that there is no hope and unqualified people are perpetuating it every day. Whether you believe him or not (and ultimately it doesn't matter) Vick is a pretty good example of hope. There is even hope for the person who lives their life in constant judgment of others, harboring resentment, bitterness and unforgiveness in their hearts. Yes, there is even hope for you.
Haters, it's your prerogative to keep number 7 jerseys off your kids back and it is my blessing not have to live in your skin, I'm thankful for that!
Everyone makes mistakes, sometimes really bad choices, but hopefully we learn from them. If the naysayers are right and Michael Vick is playing us all, it'll come out. There is nothing hidden that will not be revealed…everything at some point will come to the light. But he will have to reap what he sowed… not you. Isn't that great? But in the meantime, let the man live his life. In fact, be glad for him; rejoice with him that he did indeed turn his life around and stop asking for his head on a platter.
The man is annually on a most hated list for something he was convicted of years ago. It's way past time to let-it-go! If someone constantly berated you for things done in your past, bad choices you made "yesterday", how would you hold up I wonder? How would you stand up to that kind of pressure? The constant insults, the humiliation and the degradation?
Will Michael Vick ever be accepted again? Is forgiveness within his grasp or will it take him having to win a Super Bowl (an insignificant accomplishment in the big scheme of things) to get it? It's sad but probably true. In Philadelphia a Super Bowl win would cover a multitude of sins. Just sayin'.
Someone wrote that his probation is officially complete as of this July 20th freeing him of a humongous burden. Now he can generate more of his energy to his family and the hope of being allowed to get a dog for his kids. That will probably be the next area of media concern and scrutiny. My hope for him is that the media and the public in general will come around. Michael Vick is a public figure of enormous stature therefore subject to major scrutiny, I get it and I'm sure he does as well but is enough ever enough?
He is finally off probation, good for him! Finally, a man who no longer owes society a thing. Finally, able to look ahead to a life without distraction, Michael Vick is finally free…or is he?