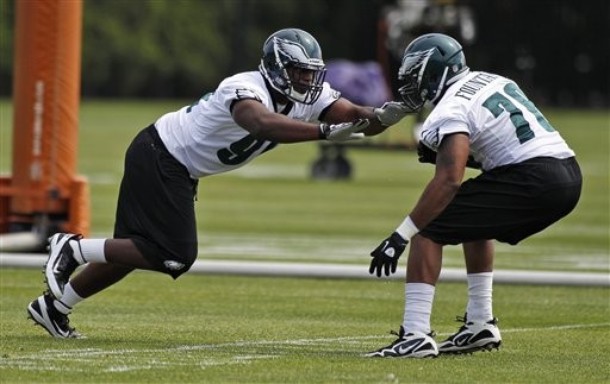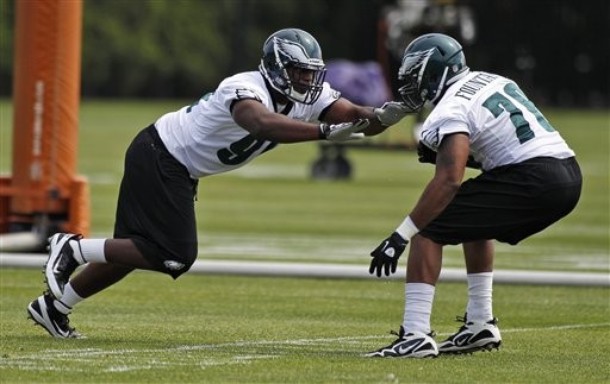 Andy Reid didn't try to cover up the fact that the Birds are expecting first round pick defensive tackle, Fletcher Cox to produce right away.  He's going to be starting or at least playing a lot immediately and the Eagles coaching staff are expecting results.
"First-round draft picks, you expect a lot out of. We've had success there, Mike Patterson being one of them, Corey Simon being another", Reid said yesterday. "We've had success with that position and guys getting in and playing early, so I would anticipate when he gets in there, he'll be working with the ones and doing that."
Like Reid and the Eagles, I'm confident that Cox will make an impact very quickly.  He's so big and athletic that's he's going to be too fast for the offensive guards in the league.  When you pair up this kid's size, power and speed, it's going to add up to serious trouble for NFL centers and guards.
I see Cox overpowering offensive linemen at times, then at other times he'll just be by the big guys before they can get out of their stances.  Right now he needs reps in order to figure out the right moves to use in the right situation.
Reid thinks the fact that it's easier to sign the top draft picks nowadays will help Cox and the other draft picks.  Instead of holding out of camp, all the young guys will be getting plenty of reps, which will allow them to make their share of mistakes during practice, so they won't start out making them in the games.
"It's different, really, because of the rules that have been set up as far as the rookies go. I think it's easier now to sign rookies than maybe what it's been in the past. But that's good. You eliminate that part of it and then you concentrate more on the football part. Hopefully, the reps that some of your rookies normally don't get, they have an opportunity to get those reps, particularly in these first three days. It's a great little review session for them so that when they hit it in pads with the veterans, they can play instead of doing a whole lot of thinking."
Cox knows what it means to be the number one pick, but he's not going to let it make him panic.
"It goes through my mind," Cox said of the first-round-pick pressure. "But I feel like I just go out and do what's coached. Whatever [defensive line coach Jim] Washburn tells me to do, whatever Coach Reid tells me . . . I'll do it every day.
The young man is excited and ready to get this thing started.
"It feels like the first day of college, going back into dorms," Cox said with a smile. "Vinny (Curry) was like, 'Hey man, you have to bring your own fan and pillow.'"
"I'm excited to get back on the field and put pads on," Cox said. "I haven't put the pads on in almost seven months, so it's going to feel different … I just have to get back used to tackling and doing what I'm doing."
"My expectation is to go in every day and get better, listen to the coaching and take advice from the older guys and just go out and play football."