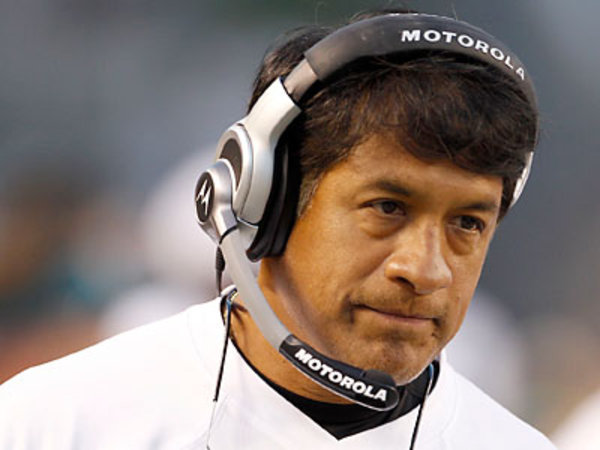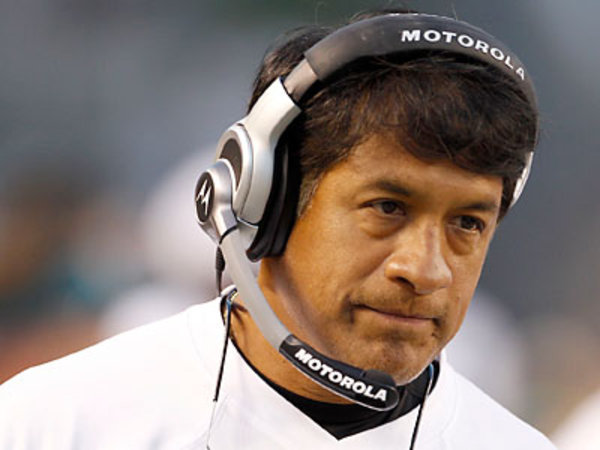 At first glance, it would seem Juan Castillo's defense didn't have that good of a season in 2011.
The Eagles went 8-8 and missed the playoffs for only the fourth time in Andy Reid's regime.  Critics who didn't want Castillo in the first place only got louder as the season went on. High-priced and big-named free agents were supposed to bring us a Super Bowl, and they weren't even able to execute basic fundamentals such as tackling. But if you take a step back and look at the season as a whole, you'll see that the defense wasn't as bad as you may think it was.
The biggest argument I've seen all off-season is that the final four games don't mean anything and were fool's gold. I completely disagree with that. If anything, I think it shows the character of the team. They could have given up when there was virtually nothing to play for. They could have complained about their coaches, but they didn't. They played hard and they won. Despite people claiming "fool's gold", they defeat Miami, NY Jets, and Dallas pretty handily while playing for a shot at the playoffs at the time. In those final four games, they allowed just 46 total points. I think the final four games showed you much of what you will see over sixteen games this year.
For the 2011 season, the Eagles allowed 328 points. That's the lowest total in the NFC East, and third overall the entire NFC. So the notion that the defense wasn't good enough is ridiculous. They finished eighth in first downs per game at 18.1, eighth in yards per game at 324.9 and tied for first in sacks with 50.
What hurt them was situationally getting off the field. They forced an abysmal 24 turnovers and only scored 4 defensive touchdowns. On third down, teams converted at a rate of 36% against them. The defense didn't help themselves, either with 87 penalties for 813 yards.  That has to get better.
Before the bye-week in Week 7, they were awful.  They lost four in a row allowing more than 24 points in each game.  They couldn't tackle anyone.  But from Week 8 on, they allowed more than 20 points only three times, against a Jay Cutler-led Bears team, Tom Brady and the Patriots, and on a Thursday night after a cross country trip against the Seahawks.
That being said, there have been a lot of changes to the defense since the 2011 season came to a close.
Off-corner Asante Samuel is gone. Even though I, personally disagree with trading him for  a 7th round pick, the move should allow Nnamdi Asomugha and Dominique Rodgers-Cromartie the opportunity to play press cover corner and not jumping around from outside to slot every other play.
The revolving door at linebacker ever since Jeremiah Trotter ended his second term in the middle seems likely to stop with the addition of DeMeco Ryans from the Houston Texans.  While playing in the 4-3 defense, he was 2006 Rookie of the Year, an All-Pro in 2007, and a two-time pro-bowler. An Achilles injury, and the switch to the 3-4, Ryans became expendable. If he has anything to give, it's better than what they've had. Also expected to jump right in is second round pick Mychal Kendricks, who will start on the strong side.
First-round draft pick Fletcher Cox should sure up an already solid defensive line, even if Mike Patterson can't play. The thing I'm most concerned about, and so is everyone, is safety. I think it's too early to call Nate Allen and Jaiquawn Jarrett busts right now, but they're close. They need to show some flashes of why they were taken with second round picks. Kurt Coleman and O.J. Atogwe also need to show they can play at a high level as well.
The Eagles pressured the quarterback, but couldn't force turnovers. They played well on first and second downs, but couldn't get off the field on third downs. Costly penalties. These are all things that have to change if the Eagles want to have a great defense. I think Juan Castillo did alright for an offensive line coach with no linebackers, safeties, a new defensive line coach and virtually no off-season.  A year of experience, a full off-season, and some key additions throughout should automatically make him better this year.
Shouldn't it?