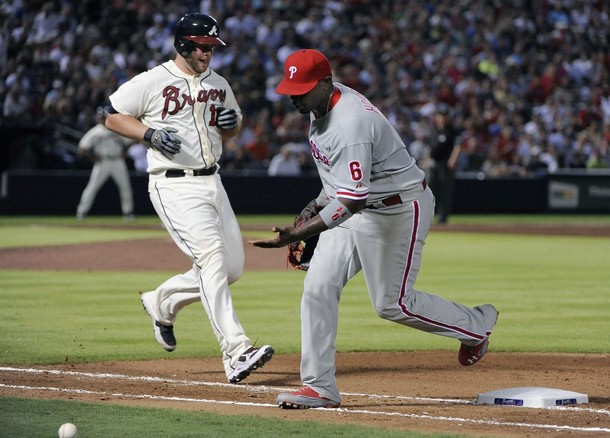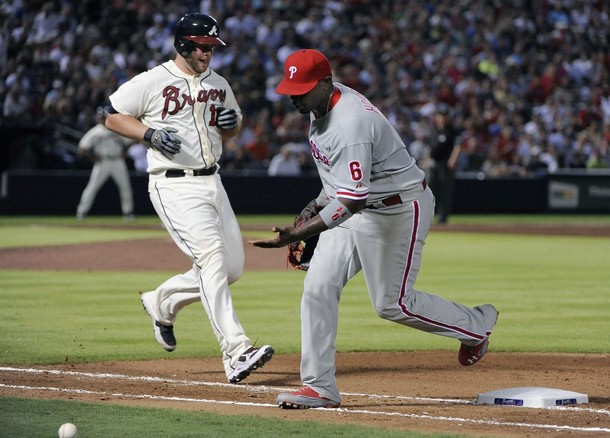 The Phillies lost their second straight game on Saturday night, falling 2-1 to the Atlanta Braves. Atlanta left-hander Mike Minor had the Philadelphia offense baffled most of the night, allowing just one run on four hits over eight innings. The loss drops the Phils to 45-56, 15.5 games out of the division and 11.5 games out of the Wild Card.
If you haven't done so already, you can now stick a fork into the Phillies' remaining playoff hopes. In spite of their improved play of late, they only fall further and further behind in the standings.
Once again, the Phillies can't get it done against a quality opponent. Although the team has been better and picked up eight wins since the All-Star break, five of those victories have come against mediocre teams like the Rockies and Brewers. Anytime the Phillies have been matched up against one of the top teams in the National League, they've lost almost every series.
The good news is that Joe Blanton turned in a stellar outing in his final start before the trade deadline, allowing just two runs on four hits over six innings. The right-hander has now given up three runs or less in six of his last eight starts, and is an appealing option for a contender looking to improve their rotation depth.
Chase Utley supplied the Phils' lone run of the night with a solo home run in fourth inning, his fifth of the season.
The pitching staff didn't surrender a home run to Atlanta's Brian McCann for the first time in six games. Well done, Joe.
It was just a wretched performance by the bats tonight. Just four hits, and no walks.
Shane Victorino had a throwing error, and Ryan Howard missed a catch. It wouldn't be a typical painful 2012 Phillies loss without a couple of errors in the field. But at least they didn't come from the third baseman tonight.