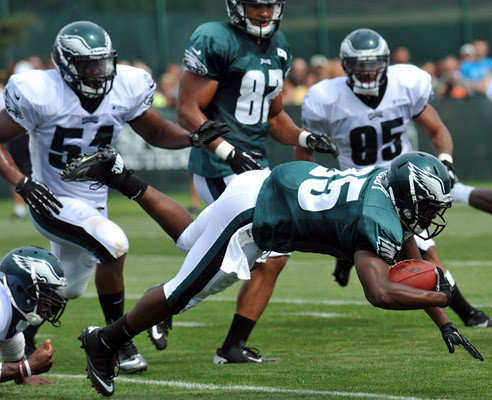 The Birds just left the field after their morning workout at Lehigh University and head coach Andy Reid talked to the media following the workout.
The Eagles players got into a few fisticuffs, but I didn't think it was a big deal.  It shows that they're emotionally charged up for the hitting.
Eagles back up wide receiver Riley Cooper fractured his collarbone yesterday while trying to make a catch on a long pass.  Reid let us know today that Cooper will miss six weeks.
Defensive end Jason Babin who strained his calf muscle is expected a miss a week.  Babin will have an MRI tomorrow.  Reid had been concerned that Babin's injury was an Achilles tear, but pleased to find out that it wasn't.
Brandon Boykin had a nice day yesterday breaking up a number of passes.  He broke one pass by Mike Kafka which was intended for wide receiver Chad Hall, but pass interference was called on Boykin.
Dominique Rodgers-Cromartie had a magnificent prsctice yesterday and he knocked down quite a few passes and intercepted a long pass which was intended for DeSean Jackson.
"You know the one thing with him is you've got to try to stay foot-to-foot", DRC said about the play after the practice. "It's hard,
but the ball was underthrown and I saw it slow down, so I got my head around it and was able to make a play on it."
Throughout OTA's, now in the training camp DRC has made a habit of showing up to knock down the ball after the quarterback has let it go.  He may have the fastest catchup speed that I have ever seen.
"It depends on how the ball is thrown," he said. "Nine times out of 10, when a quarterback sees a receiver in front of you like that, he tends to float it and let him run under it. That's giving me the opportunity to make up on him."
Brandon Graham continued making his statement.  He had dominated on Friday during the one-on-one and team drills.  On Saturday he stepped up his statement.  Graham beat Todd Herremans a couple of times during practice and seemed to live in the offensive backfield.  The former Michigan Wolverine would had a sack on Michael Vick if the linemen were allowed to hit the quarterbacks.