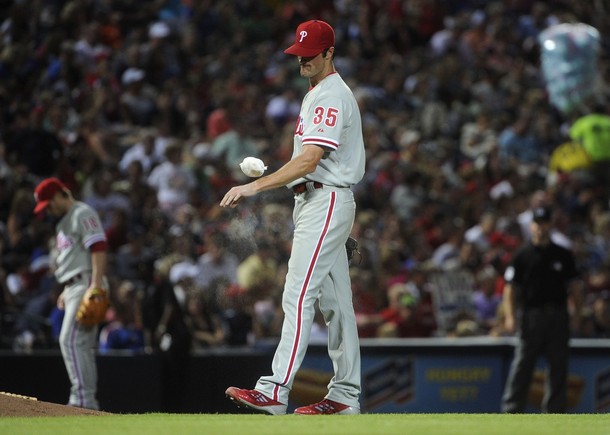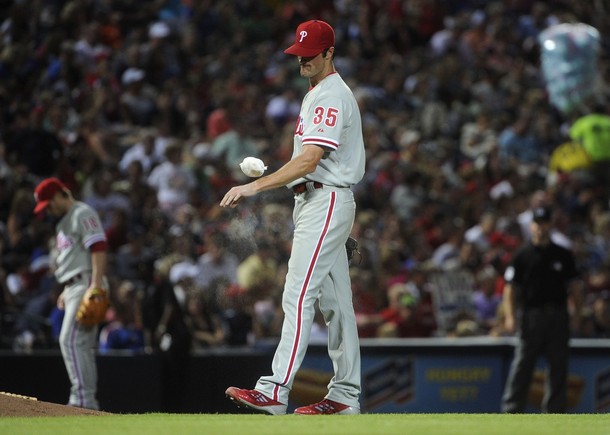 The Phillies had their four-game winning streak snapped on Friday night, falling to the Atlanta Braves 6-1. The Phils jumped out to an early 1-0 lead, but the bats would go quiet after the first inning.
What a disappointing start to a critical series. Early on it seemed as though the momentum was on the Phillies' side, as they jumped on Ben Sheets for an early run in the first inning.
However the Phillies' spark quickly fizzled out. The offense wouldn't score another run, and they also received poor efforts from their pitching staff and defense.
Cole Hamels turned in a mediocre outing, allowing five runs (three earned) in five innings. Though the left-hander only gave up four hits, he got himself into a lot of trouble by issuing a career-high six walks. In this desperate situation, the team needed a much better outing from the man they just committed $144 million to.
Hamels' biggest mistake was giving up a three-run home run to Brian McCann in the fifth inning. This error blew the game open, and put things out of reach for an offense that just didn't have any magic in them last night.
As mentioned previously, Hamels didn't get any support from his defense. Mike Fontenot (filling in for Placido Polanco at third base) committed a costly fielding error in the second inning that would lead to two runs. John Mayberry also had an error later in the game in the outfield.
Ryan Howard had a rough night at the plate, going just 1-4 and leaving four runners on base. He struck out three times, including an at-bat in the first inning with one out and a runner at third. All Howard had to do was put the ball in play, and the Phils would have had a 2-0 lead.
Relievers Jeremy Horst and Joe Savery did a decent job to stop the bleeding. The two lefties combined to allow just one unearned run in three innings.
The Phillies can't afford to lose another game in this series. Another loss or a sweep negates all progress they made in the last week, and truly takes them out of contention. Its a shame they were unable to take advantage of the momentum from the Brewers' series, and that they had their ace on the mound.