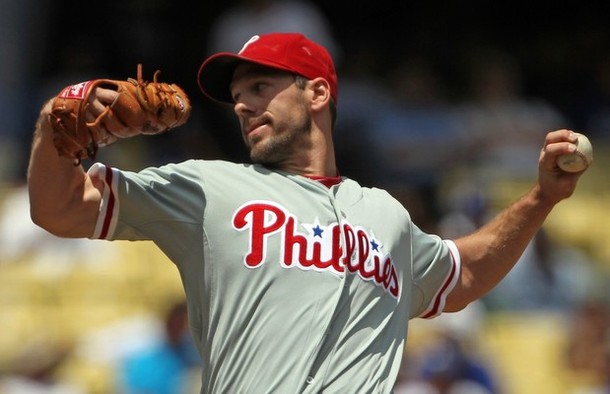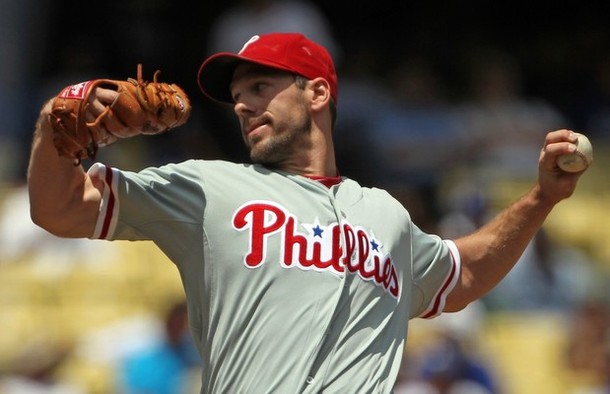 When Joe Blanton has the second most wins within a $70 million starting rotation, you know something has gone horribly wrong.
A year ago, Roy Halladay and Cliff Lee were centerpieces of a Phillies team that won a franchise record 102 games. Halladay went 19-6 with a 2.35 ERA, throwing eight complete games and one shutout. Lee finished 17-8 with a 2.40 ERA, and threw six shutouts. Both pitchers were in the running for the Cy Young Award, and were also among the league leaders in strikeouts, combining for 258 strikeouts.
But in 2012, neither pitcher has come close to meeting expectations.
Halladay has spent an extensive amount of time on the disabled list, has lost a great deal of his velocity (struggling to hit over 90 mph on his fastball), and has been hit around regularly when he takes the mound. In just 13 starts, the former Blue Jay is 4-6 with a 4.33 ERA. He's given up 40 earned runs and seven homers after allowing just 65 runs and 10 home runs a year ago in 32 starts. The 35-year old seems to be in a rapid decline, and it seems that the Doc's days of glory are long behind him.
Lee hasn't been nearly as bad as Halladay, but he hasn't been the dominate pitcher that the Phillies are paying him over $20 million to be. He's just 1-6 on the year with a 3.95 ERA. The left-hander hasn't gotten quality run support or help from his defense all season, but he seems to have let his poor record impact his performances as the season has gone on. He had a putrid month in June, going 0-3 with a 6.12 ERA in five starts. When the former Indian takes the mound, few things seem to go right for the team, and it just looks like a lost season for the one-time Cy Young Award winner.
It's at the point now where the Phillies can't count on either one of these $20 million pitchers to go out and shut an opposing offense down. After combining for 14 complete games in 2011, neither ace has gone more than eight innings this season. The two pitchers worth more than $40 million combined have produced just five wins between them four months into the season.
The struggles of Halladay and Lee in 2012 have to create serious questions about the 2013 team. Ruben Amaro is going to be counting on the team's three aces (again) to be this team's greatest strength. I believe Lee is more than capable of rediscovering his 2011 form, but I've got serious doubts about Halladay.
Lee has epitomized the 2012 Phillies, and just seems to have had a dark cloud hovering over him all year. After an off-season to refresh and recharge, I can still confidently expect a big year from the lefty in 2013. He hasn't lost anything physically, and is still one of the top pitchers in the game.
Halladay on the other hand will be 36 when the season starts next year. He's already lost some velocity and movement, and once physical skills begin to deteriorate, they don't come back. The right-hander has always pitched to contact in his career, and the diminished velocity has made him much more hittable. I can't see Halladay being anything more than an average starter for the rest of his career.
Ruben Amaro must carefully evaluate this rotation from now until the end of the year. He's got to determine for himself who can still pitch at a high level, and who (if anyone) he should attempt to move in the off-season to free up some room on his payroll.