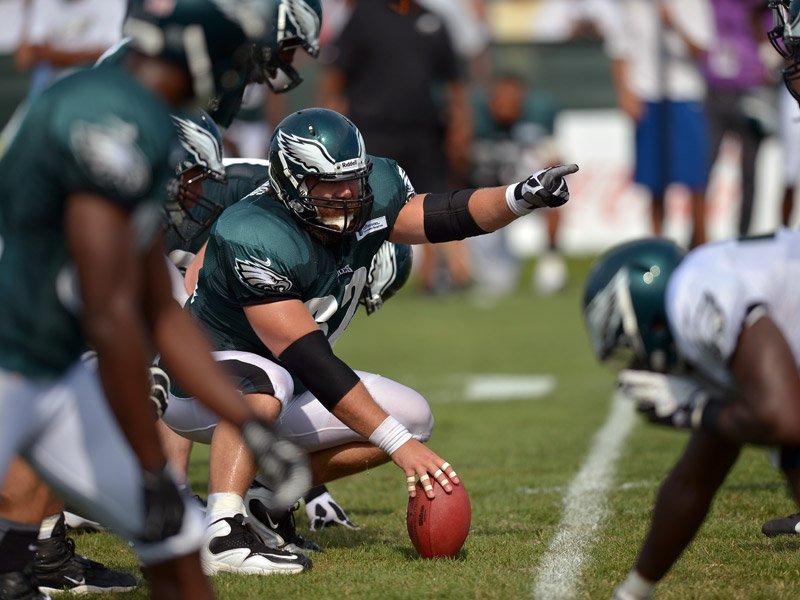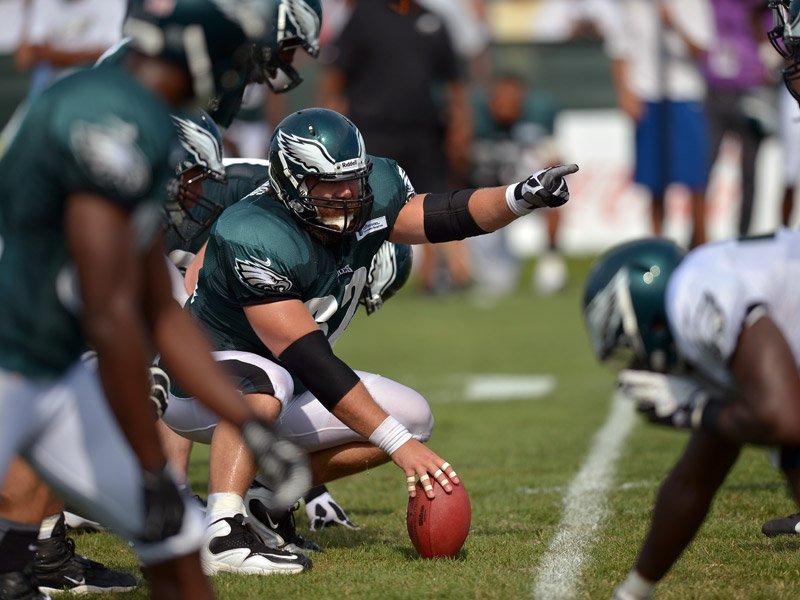 Rookie wide receiver Ron Johnson dislocated his ankle at practice.  It wasn't a pretty picture for a youngster who had been showing a lot of promise at camp.  There was no surety that he was going to make the team, but he had been having a good camp.
So far during this training camp, every time the Birds hit, a fight breaks out.  The same was true yesterday.   Eagles Pro-Bowl wideout DeSean Jackson got into some fisticuffs yesterday with cornerback Brandon Hughes after a play, but the veteran didn't think it was a big deal.
"I don't worry about that," Jackson said after the afternoon practice wrapped up. "It's a part of football and a part of training camp. You obviously can't do that during real games. You're out on the field, it's real intense in the heat, tired, the whole nine."
Former Eagles wide receiver Greg Lewis is one of the former Eagles players who is serving as an intern for this training camp.  He had to jump in the middle of Hughes and Jackson to break up the fight and prevent an injury to the diminutive wide receiver, which could have hurt the Eagles chances this year.  Could you imagine Jackson breaking his hand by hitting it on Hughes helmet?
"I'm a starter on this team and I'm one of the leaders," Jackson said. "Don't want to cause anything, you know, me getting hurt. [Lewis] didn't want anything stupid to happen and have me be out for the year. We just have to be smart with things like that. He didn't want me getting hurt. It's football and it's part of the game.
The Eagles are spending a lot of time during this training camp working on recognizing and picking up blitzes.  Each time the Birds offense comes to the line of scrimmage, center Jason Kelce identifies which defensive player is the middle linebacker.  Once the middle linebacker is identified, each offensive lineman can count from there so that everybody knows which guy they're responsible for.
Michael Vick can override anything Kelce says, but having the center identify the middle linebacker takes some responsibility from Vick, who will take it from there and decide which way the line should slide or what blocking scheme should be employed.
Teams are going to blitz the Eagles so, it's very important that they make the right adjustments against blitzes.
Yesterday wasn't a very good practice offensively.  The offensive line seemed to be battling fatigue ,and this offensive line needs to be energetic and emotionally into their work in order to excel.
"First of all we have to get through training camp", Kelce said. "Yesterday was not one of our better practices so we just have to keep on improving. Demetress Bell is getting better every day and he is looking more and more impressive. Evan Mathis had a great year last year so hopefully he can continue doing that. We have a very athletic offensive line and I think that is our strength. We can do a lot of things that other offensive lines can't."
The Birds are working on moving LeSean McCoy outside and throwing the football to him in much the same way they did Brian Westbrook.  Nearly every practice features McCoy outside being covered by starting safeties Nate Allen or Kurt Coleman.
McCoy is getting better as a wide receiver, but he's not at Westbrook's level just yet.  Reid is looking for ways to get the ball to McCoy without handing it to him in the backfield.  It will keep the number of hits on him down, but still give him the chance to make plays.
Rookie Damaris Johnson has showed flashes with his tremendous speed and quickness.  Little number 13 has been catching the football quite well and he's been getting deep on defenders.
Chad Hall hasn't been spectacular but he's continued to get open and catch the football.  Hall has played well in each practice and I don't think I've seen him drop a ball.  He's consistently getting open and catching the football, which is all you can ask of a wide receiver.
Hall is also benefited by the fact that he knows all of the wide receiver positions and can be inserted any where if they need him. The former Air Force star returns punts and kickoffs.  Hall has all this pluses but he's not very big or fast in NFL wide receiver terms.
Backup tight end Brett Brackett isn't much of a blocker, but the former Penn State wide receiver does a great job of catching the football.  He's definitely putting pressure on the top backup tight end behind Brent Celek, Clay Harbor, who has done a much better job of catching the football.  This young man has shown that he can get open and catch the football.
Rookie defensive linemen, Fletcher Cox and Vinny Curry, got sacks yesterday when they were battling against the second-team offense, which was led by Mike Kafka.  The Eagles backup quarterback was able to connect with Brackett on a nice play downfield.
The Birds will have the day off on Tuesday, which will help them get some of the soreness out of their bodies.