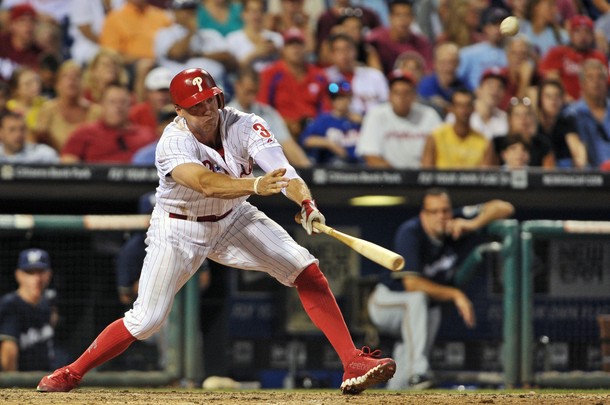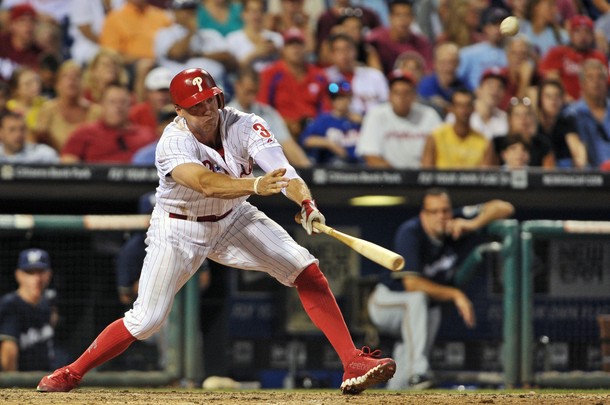 The final days of July are always a busy time of year for Ruben Amaro. Normally, the Philadelphia general manager is one of the league's biggest buyers, but due to the team's failures the opposite is true and the Phillies have been one of the league's biggest sellers on July 31st.
Today the Phillies waved goodbye to two of their starting outfielders, shipping Shane Victorino to the Dodgers and Hunter Pence to the Giants.
Victorino was having one of his worst seasons as a Phillie, and now returns to his original organization, who lost the outfielder to the Phillies as a Rule 5 draft pick years ago. In exchange for the centerfielder, the Phillies picked up a pair of pitchers, Josh Lindblom and Ethan Martin. Lindblom is major-league ready reliever, who threw 47.2 innings for the Dodgers with a 2-2 record and a 3.02 ERA. He's got some experience as a setup man, 23 of his innings have come in the eighth inning. He'll be under control of the Phillies until 2018.
Martin was a prospect in the Dodgers' system, going 8-6 with a 3.58 ERA in 20 starts at the Double-A level. He has a fastball that can reach the mid-90s, and has potential to develop into a major league starter.
The Hunter Pence trade was the biggest surprise of the day. The Phillies were shopping the outfielder, but a trade didn't seem likely. The former Astro was the only starting outfielder under contract next season, and his absence now leaves the lineup without a legitimate right-handed power threat. In return for Pence, the Phillies receive catcher Tommy Joseph, outfielder Nate Schierholtz, and a third player to be named.
Joseph is a 20-year old prospect hitting .260 with eight home runs and 38 RBIs in Double-A. He's considered to be one of the top prospects in the San Francisco organization. Schierholtz is an outfielder that has been in the major leagues full-time since 2009. He's a career .270 hitter, and is ideally a fourth outfielder on a good team. Because of the Phillies payroll troubles, he could become a starter or at least a platoon option in the outfield next season.
The trade deadline passes later this afternoon, and the Phillies could still make a couple of moves involving guys like Joe Blanton (who the Orioles reportedly have interest in) and Juan Pierre. Cliff Lee's name came up in some rumors, but at this point he's unlikely to go anywhere.