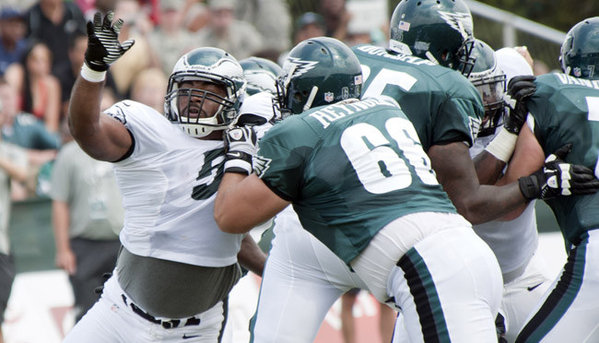 The Eagles continued their decade-old tradition of hosting the military at training camp.  Former Air Force wide receiver Chad Hall had his head shaved to raise money for the Wounded Warriors Project.  The program raises money to help veterans, who were injured in battle.
"I'm just trying to really take our minds off us and really appreciate these guys and what they do," Hall said. "They're over fighting for our freedom every day. We're fighting on the field, but it's so miniscule to what they really do. We're just trying to gather a bunch of money today and give back to the Wounded Warriors."
The soldiers come onto the field after practice and get the chance to take pictures with the players and coaches as well as get their autographs.
The injuries continue at Eagles training camp on the Birds defensive line.  Starting right defensive end Trent Cole is out of action because of an injured AC shoulder joint.  Cole will be shut down for a while which means Brandon Graham, Darryl Tapp, Phillip Hunt and rookie Vinny Curry will get more chances to show their skills.
Defensive tackle Cullen Jenkins was sidelined with a strained hamstring.  There's no word yet how long he will be out, but he'll have a MRI later today.  Jenkins had been taking reps at defensive tackle and defensive end, so this will open up opportunities for the other defensive linemen.
This has been a competitive training camp so far.  The tempo has been high and the offense and defense have been going after each other on a level which is going to make them better.
One of the keys to the Birds success will the play of new acquisitions offensive tackle Demetress Bell and middle linebacker DeMeco Ryans.
"Every day he has gotten better. He looks like he is picking things up mentally and we have thrown a ton at him", Andy Reid said yesterday about Bell. "He's been able to handle that and physically he has gotten better every day out here. I've been pleased with what I have seen. He has to continue to work and he has plenty of room to improve. He's definitely getting better."
I watched Bell battle the team's defensive ends yesterday and saw him win some and lose others.  Offensive line coach Howard Mudd got after him a time or two, but the big offensive tackle held his own.
He's got the ability to get the job done, but he seems to be going through a transition here with Mudd because the offensive line coach doesn't tolerate players accepting giving up hits on the quarterback.  All in all Bell has done a pretty good job so far.
I've been somewhat disappointed with what I expected of the new middle linebacker because I was expecting so much.  Ryans has gotten the defense lined up correctly but I would like to see more big plays from him.  He hasn't been making a lot of tackles in the live drills.
Rookie Mychal Kendricks seems to be everywhere making tackles, but Ryans hasn't been as active.  I've seen him in position to make the play, but too many times I've seen him miss the tackle.  It's still early, but he needs the work.
"DeMeco is playing faster now than he did when we first started out and that's only because he is more comfortable", Reid said about Ryans. "He'll become even faster after more reps. Most of the installs are in on the defensive side so now he can kind of focus in on the offensive side; all the routes that have been put in and the things that you normally game plan for that you're not able to do during training camp because you're so busy installing your side of the ball. You don't get too caught up with the other side."
There's nothing the like the one-on-one drill when the Eagles defensive linemen square off against their offensive linemen.  I was parked their yesterday watching all the big guys go at it.
Brandon Graham continued his quality play.  He beat offensive tackle Todd Herremans two times and lost once.  The former Michigan Wolverine seems to be quicker, stronger and in better shape than he's been in past years.
"I feel like I'm in great shape," said Graham, who has acknowledged conditioning was an issue last season, as he labored to return from ACL and microfracture surgery. "That's half the battle. You know, my knee, it was holding up last year, but really, it was kind of stopping me from being able to go all out, because it was still mental for me. Now? I'm just going to go out there and play. I'm going to be out there diving on the piles — you're going to see a different guy."
You can't help but be impressed by the way offensive line coach Howard Mudd and defensive line coach Jim Washburn push their players to compete.  These are two old assistant coaches, who know when a player is either mentally or physically going through the motions or taking a day off.  They won't allow it.
At the same time, they make sure their players know that they're trying to make them better and not just trying to be a pain in the butt.  Some of the best lines are heard when standing by the one-on-one drills.
One of the goals of this camp for the Birds offensive coaches is to develop LeSean McCoy as a wide receiver.  He's not going to become a full-time wideout, but they want to walk him out and throw the ball to him.  He works on it every day and you can see marked improvement every time he walks and out and is covered by the team's safeties.