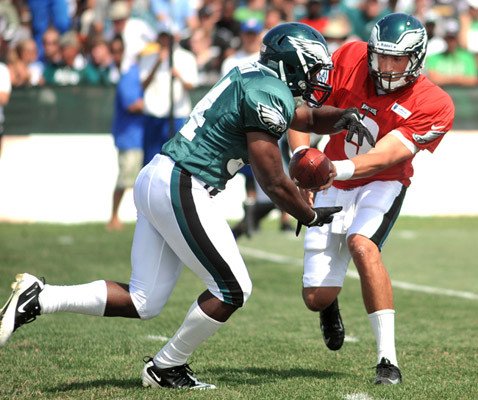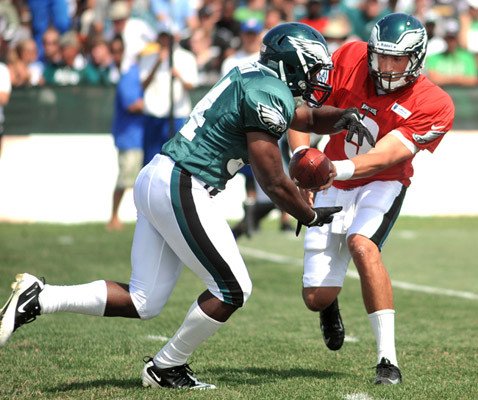 I wasn't impressed with the performance of Eagles rookie running back Bryce Brown yesterday after he was pounded by the defense.  The defense was dominating the action and he didn't seem to respond the way you would want him to do.  He wasn't used to this type of intensity. The defensive linemen were coming off the ball and taking no prisoners.
Rookie first round draft pick Fletcher Cox was getting penetration into the backfield.  It wasn't so much that he was making the tackle, but he was making it very easy for somebody else to make the play because the big guy was stacking up offensive linemen in the backfield.
His fellow defensive tackle, Antonio Dixon, was coming with it as well.  Dixon seems to be quicker and stronger than he was a year ago.  The big fella lost some weight and it's made him a better player.  This was the second defensive line, but they're playing like it.
On one series of plays, Brown was hit in the backfield each time he took the handoff.  He was tip-toeing up to the line of scrimmage after that and seemed to get intimidated by the attitude of the defense.
I say this while acknowledging that Brown had been consistently gaining yardage against the defense each day at camp.  Yesterday was quite a test for the youngster because he was getting pounded.  He was being challenged.
After Brown was forced to fumble, Andy Reid moved the battled down to the goalline and Brown went the wrong way on the next play he was in there for.  The rookie left quarterback Mike Kafka with the ball in his hands and no where to go.running and was hit in the backfield.
I'm interested in seeing Brown come out on Thursday and be aggressive against the Birds tough defense.
Right now Brown has played well enough to get a position somewhere in the NFL, but not necessarily here for the Eagles because Dion Lewis has excelled throughout the camp.