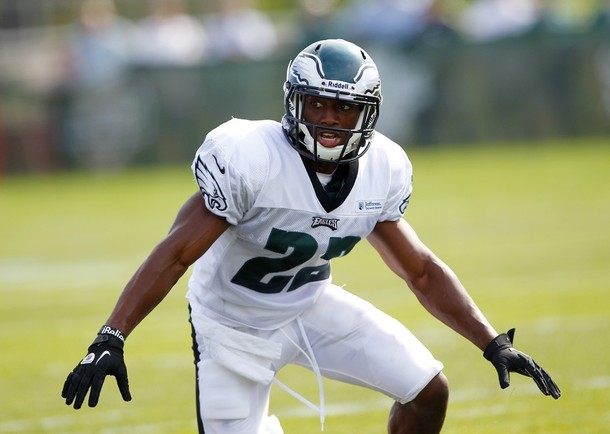 We got one guy we expected and another guy who was a surprise when special teams coach Bobby April was asked on Thursday who were the leading candidates to be the return guys this season.
We expected rookie cornerback Brandon Boykin to be in the mix and he is as the kickoff returner.
After looking at his skills during this training camp it's easy to see that he's a good football player.  Boykin is fast, quick and tough.  He's not one of those cornerbacks who doesn't want to hit anybody.  As far as I'm concerned Boykin should be moved to safety.  He has a lot of the skills which we saw in Brian Dawkins when he came to the Birds.
When asked about the punt return spot, April talked about a free agent who caught my eye when he first showed up for OTA's during the off season, Damaris Johnson.  Yesterday he used his quickness to get open for catches in the one-on-one drills against Dominique Rodgers-Cromartie and Boykin.
The list of guys in the NFL who are quicker than Johnson isn't very long.  This little guy is seriously quick.
April talked about Johnson in glowing terms. "(He) catches the ball really well, he's in position all the time, he's really quick, and he had a big career (at Tulsa).  When you see him out here and you see his quickness is real, I mean NFL quick, you see his ability to judge being in position to catch it is real, you've got a pretty good idea."
Rookie free agent cornerback Cliff Harris is also one of the candidates for one of these positions.
"We are working him in there and we know he is a really good player as well", April said. "He is in the mix. He is a good player. He's another guy that is fighting for a position. If he ended up being the punt returner it would obviously elevate his status in the coaches' eyes in terms of making the team. There's a lot of things that we're going to have to make real and wise prudent decisions on, that's for sure."
All of these youngsters have the ability to make big plays in the return game, but the key to their success will be in the decision-making area and in staying away from turning the ball over.
Others being considered are Chad Hall and Mardy Gilyard at both punt and kick off return positions and Dion Lewis as a kick returner.