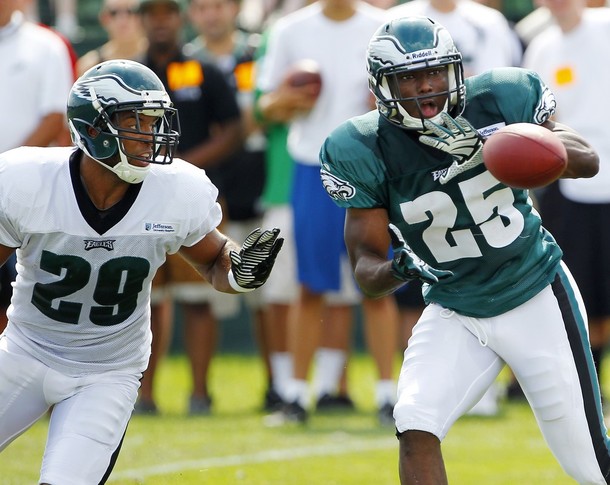 There were five Eagles players who started Thursday practicing, but finished it in the training room.  Running back LeSean McCoy was snatched out of the drills and live action because of cramps.  Safety Nate Allen also was shut down because of cramps.
Offensive right tackle Todd Herremans injured his right shoulder, which elevated rookie Dennis Kelly to a spot with the first team offense.
Both McCoy and Allen should be fine and able to practice on Friday, but they're both important to this football team, so don't be surprised if the Eagles error on the side of caution, especially with McCoy.
Starting left guard Evan Mathis was shut down because of an illness.  I don't know the specifics but he left the field.
Veteran safety O.J. Atogwe had to stop because of a problem with his right groin, which could mean problems for his chances of becoming a starter or making this team.  I must say I haven't been impressed with him thus far but I'll wait to check him out more.
Linebacker Jamar Chaney took over a starting spot on the nickel defense at the linebacker position next to DeMeco Ryans, but injured his left hamstring.  He will have an MRI to find out how serious it is.  This is no time for Chaney to miss any time, but we'll see what the MRI says.
I know this seems like a long list of injuries, but it's normal for training camp.  It's not a big deal until this injuries start affecting the squad which the Birds will be putting on the field in the first game of the regular season.