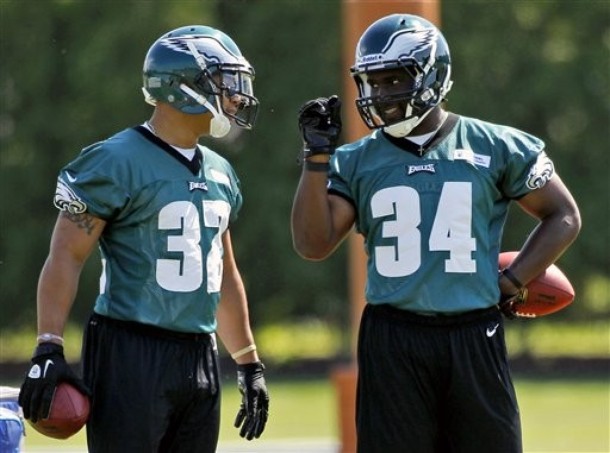 I like the battle that's going on between rookies Bryce Brown and Chris Polk for the remaining backup running back position.  Let me make this clear that Dion Lewis has been sensational at training camp and shows no sign of giving up his backup role to LeSean McCoy.  Brown and Polk are competing for the spot behind Lewis.
Brown is the superior athlete, who has the bigger upside with a tremendous combination of size and speed.  Polk is a more seasoned football player, who is prepared to play right now, having played in a Pro style offense at the University of Washington.
"I think we're bringing out the best in each other," said Brown. "Me and Chris study together and we're working hard out here trying to improve. Of course it's nothing personal. It's about going out and playing the best football we can play."
"It was fun especially getting a chance to go against some of the veteran guys and just to know we had a lot of success", Brown said. "That gives us both a lot of confidence. I root for him. I am so happy because we are both coming here at the same time. We are both pushing each other and we both help each other out. To see him go in there and do a good job makes me feel good too."
Brown was previously the number one rated running back in the nation during his senior year in high school, but things didn't workout very well for him at the University of Tennessee and at Kansas State.  Polk on the other hand, had a tremendous career at Washington but some injuries and the pounding that he took while amassing a large number of carries, made NFL teams shy away from him.  Now both of them are battling for one position.
Brown is a home run hitter who can take the ball the distance every time he touches it.  He's a straight line ball carrier, who is able to run through tackles with his power, while giving the defenders a little bit of shake.  I see Brown's eyes in the huddle, before each play and I see him thinking.  The youngster is still hesitating a bit, but all of sudden he'll hit a seam and zoom, he's gone.
Polk is one of those "in between the tackles" guys, with big, strong legs and tremendous determination.  The former Washington star has made a habit of breaking tackles at training camp during the live periods.  I like his vision and ability to find the hole with his surprisingly nimble feet.  He's got very good patience for a guy so young.  Polk already seems comfortable picking up linebackers on the blitz drill.
"I'm focused on making every rep count," Polk said. "Bryce is a great player and I think I am a great player, so we're going out there and making the most of our opportunities. I can't worry about anything other than making sure I am prepared and that I'm playing my best football every day."
"It's football", Brown said. "I know that I have to go out there and be the best player I can be. I have a lot to learn. We all do," said Brown. "I know I'm not sitting around counting numbers or worrying about what anyone else is doing. I can only control what I can control."
This is going to be a tough decision for the Birds.  If they're looking for somebody to be ready to play right now when the season starts, they'll have to select Polk.  At the same time, they don't want to look up a year or two from now and see Brown becoming a franchise back for somebody else.
A disadvantage for Polk, is the fact that Andy Reid has never been crazy about running backs who are pounders.  He always seems to take the running back with the most speed and quickness.  For that reason I would favor Brown in this competition, but I believe Polk can play in this league right now.  If they let Polk go, he will play for a team in this league, this year. I like both of them, but I don't know if Brown is ready just yet.