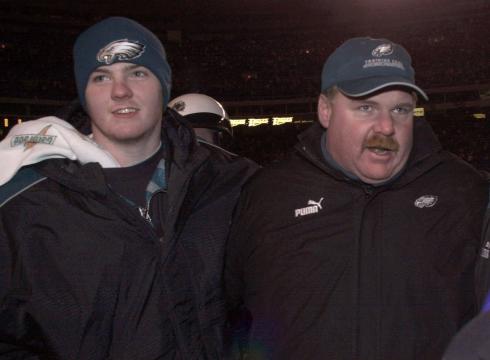 Garrett Reid the eldest son of Eagles head coach Andy Reid was found dead this morning in his dorm room near the Lehigh University campus.
A 911 call was made at 7:11am this morning to the Lehigh police.  The police tried to revive the 29-year old young man but they were unable to do so.
Coach Reid missed this morning's walk-through, but is said to have asked that the training camp workouts continue.
Eagles GM Howie Roseman made a statement a little over an hour ago: "I have some heartbreaking news to share with you all. It is with great sadness that I tell you that Garrett Reid, the oldest son of coach Reid, was found dead this morning in his room here in training camp. It is a tough morning for all of us in the Eagles family. Garrett grew up with this team, and that makes this news even harder for us to process. Our hearts go out to Andy, Tammy, Britt, Spencer, Crosby and Drew Ann. Coach has spent the morning informing his family. We ask sincerely that you respect the family's privacy during this time.
Lehigh University chief of police Ed Shupp: "This morning at approximately 7:20 AM an officer received a 9-1-1 call. Unresponsive male at the Sayre Park dormitories. Upon arrival, it was observed attempts were made to revive the individual; they were unsuccessful. The individual, Garrett Reid, was deceased upon the officer's arrival. There were no suspicious activities. At this time, however, I'll turn it over to the coroner, who will be handling that part of the investigation."