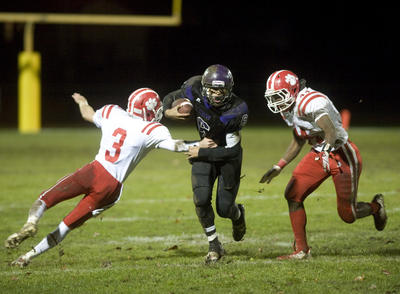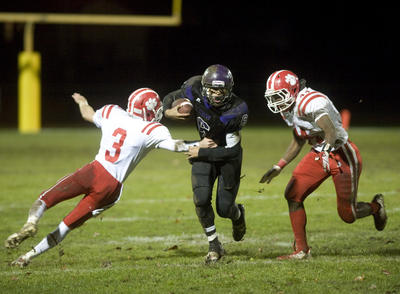 Rodney Williams is a diminutive but extremely quick athlete with very good speed and vision.
Williams' main position is currently quarterback where he stars as a duel-threat in the spread option offense.  While he does not currently posses the height or arm strength to play QB on the FBS level, Williams displays FBS level escape ability in the pocket, as he uses his vision, quickness and acceleration to beat primary and secondary contain.  Those same skills make the Cherry Hill West product extremely dangerous when running the option.  He can quickly sink his hips in the open field to throw an array of moves on defenders including jump cuts, dead-leg cuts and stutter steps.
Williams is one who can be counted on to make the first 2-3 defenders miss when he has the ball.  Though not an absolute blazer, Williams shows very good speed in his video as he does manage to beat some tough pursuit angles on long runs.  Nevertheless, he looks to be "more quick than fast".  Aside from slightly less explosion out of his cuts and less arm strength, Williams' skill set is similar to a recent South Jersey prospect, Bill Belton (Winslow – 2011) who is currently a running back at Penn State.
At cornerback, Williams shows the same quickness and acceleration that make him such a dangerous player on offense.  He has a crisp plant and drive that allows him to undercut receivers and make plays on the ball.  Good ball skills, possibly somewhat due to his experience as a basketball player, are also evident from his video.  He shows a comfort level with catching the ball with hands and away from his body and also times his jumps very well.  Size could potentially be somewhat of an issue, but Williams has plenty of time to grow.
As a sophomore, Rodney Williams shows FBS level potential as a defensive back or a slot wide receiver.  If he eventually thickens out to 190-200 lbs, running back may even be an option for the versatile athlete.
Name: Rodney Williams
Height: 5'10"
Weight: 177
Position(s): QB/DB
High School: Cherry Hill West
Hometown: Cherry Hill, NJ
Class: 2014