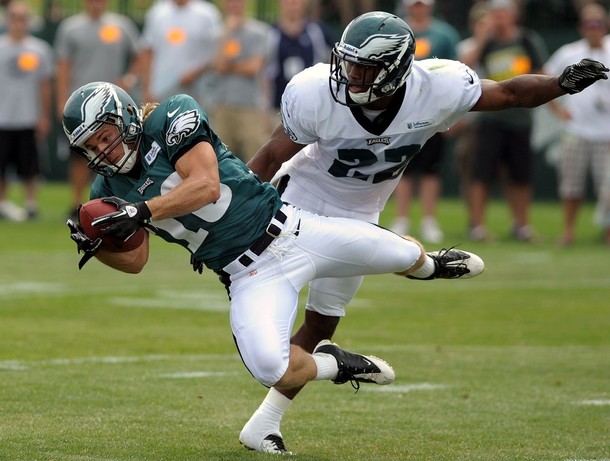 The Eagles just announced the signing of former Maryland linebacker Adrian Moten and the release of wide receiver Andrew Brewer.
Yesterday, you could understand that Eagles head coach Andy Reid wasn't at the workouts yesterday, but he still wanted the Birds to practice and they did just that.  In the morning before the walkthrough, before practicing the team had a time of prayer in support of their head coach and his grieving family.
Interesting Training Camp battle
Chad Hall – I don't know if Hall has dropped a pass during this training camp.  He's been amazingly consistent and knows each of the wide receiver positions, but he lacks the big time speed the Birds would like to have at that position.  His lack of big time speed makes it very difficult for him to play outside.
Damaris Johnson – Johnson has been outstanding so far at camp.  His quickness has allowed him to get open against the best cornerbacks on the Birds roster.  The former Tulsa star has the ability to provide deep speed.  His speed allows him to play in the slot or outside, plus he's an outstanding punt returner.
Watch them in the preseason games because it will likely decide who stays and who goes.  Johnson needs to prove he can be the punt returner without making any mistakes.  Hall needs to prove he has the speed to break off a big play.
Kolb Has Awful Performance
Former Eagles quarterback Kevin Kolb had an awful performance against the New Orleans Saints in this year's Hall of Fame game in Canton, Ohio.  His first throw was picked off and he was knocked out of the game while completing his only pass for a 4 yard game.  His competition at quarterback, John Skelton, came into the game afterward and led Cardinals on a long-touchdown drive.
Terrell Owens Working Out for Seahawks
The Seattle Seahawks are working out Terrell Owens today.  I believe Owens can still play, but teams are reluctant to about giving Owens a chance to create chaos in their locker room.  We'll see how it works out.