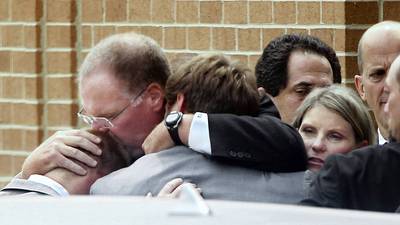 The funeral was supposed to start at 10 am, but it had to be delayed because of the overwhelming number of people who showed up to support Andy Reid and his family during their time of need. No matter if one has opted for affordable funeral packages or lavish ones, the comfort of having loved ones beside during such times is all one need.
All in all, more than 900 people packed into the Church of Jesus Christ of the Latter Day Saints in Broomall, Pennsylvania this morning.   They were there to support Reid, his wife Tammy and their four remaining children, as they laid to rest, Garrett, who had been in an eight-year battle with drug addiction.
It was a who's who of NFL people represented.  NFL Commissioner Roger Goodell was in attendance.  New England Patriots head coach Bill Belichick was there.  The Cleveland Browns were represented by team President Mike Holmgren and head coach Pat Shurmur.  Ravens head coach John Harbaugh was there.  The Eagles current players were there as well as numerous who had previously played for Andy.
"His spirit for life, the joy he lived with for every single day," Harbaugh said about Garrett following the service. "The one thing I took, more than anything, was that Garrett was a friend of everybody. Kids in school that were kind of struggling a little bit, he's their friend. The guys that were picked last for the basketball team, he's their friend. He would take everybody under his wing. He had great compassion for people. And that's a trait I think he gets from Andy."
"It was a combination of tremendous grief and tremendous love, and of course, they go hand in hand," Eagles chairman Jeffrey Lurie said following the service. "A lot of tears, and a lot of joy, in terms of remembering Garrett …"
"Andy prides himself on being a rock", Holmgren said. "All of us in this business have to be like that a little bit. But when it comes to something as personal as this, his humanness and who he is comes out, and that's OK," Holmgren said. "He reacted like every other father would react."