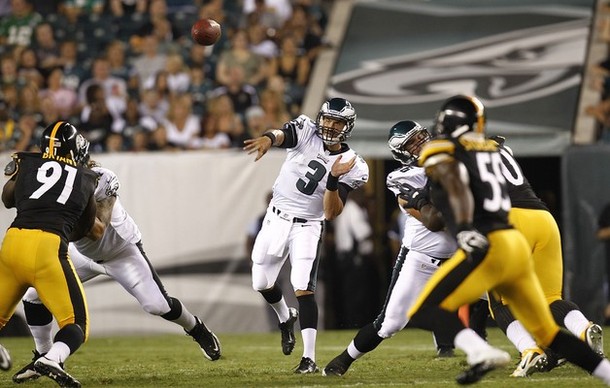 1. Kafka Down, Foles and Edwards Up
In the coming weeks, Andy Reid will need to make a decision about who his primary backup quarterback will be.
Mike Kafka, the early favorite for the job was brutal in his first action of the preseason. The third-year quarterback completed five of nine passes for 31 yards, and made a critical mistake in the second quarter, reacting poorly to a pass rush and throwing the ball right into the gut of a Pittsburgh defensive lineman. Kafka's completions came on short routes, and the former fourth-round pick never attempted to stretch the field. He didn't do anything to inspire confidence on Thursday night, and probably lost some ground in the race.
Nick Foles shined in his Eagles' debut. Foles took over in the third quarter, and helped spark his team's rally by throwing  for 144 yards and two touchdowns. The rookie was poised and patient, and made a great read on a broken play to find Damaris Johnson for a 70-yard touchdown. He got away from pressure on the play and put the ball right on target for the rookie wideout. On the next drive Foles hit Mardy Gilyard for a 44-yard touchdown.
Trent Edwards did what you would expect from a veteran quarterback. He was steady, and ran the offense efficiently. Working with mostly third and fourth-string players, the former Buffalo Bill took the team on two scoring drives in the fourth quarter to retake the lead and set up the winning field goal.
Regarding his backup quarterbacks, Andy Reid said after the game "I keep it wide open at all positions," head coach Andy Reid said after the game. "Whoever is playing the best is going to play."
2. 2012 Rookie Class Shines
The new crop of rookies were one of this game's brightest spots for the Eagles.
Second-round picks Mychal Kendricks and Vinny Curry were constantly around the football when they were on the field. Kendricks was in on several tackles, and broke up a screen play in the second quarter. Curry was dominate in the second half when he entered the game.
As mentioned previously, third-round pick Nick Foles was the star of this game.
Fourth-round pick Brandon Boykin flashed as a kick returner, showing great speed and explosiveness.
Seventh-round pick Bryce Brown was impressive with 49 total yards on five touches, showing good ability as both a runner and receiver.
Undrafted rookie Damaris Johnson was also impressive as a punt returner, and caught four passes for 85 yards and a touchdown.
It was a quiet game for top draft pick Fletcher Cox, but we can expect more from him as the season progresses. To see such a high number of rookies stepping up and making their presences felt this early is a great sign for this football team.
3. First Teams Unimpressive
The first team offenses and defenses put forth disappointing efforts in their first live game action of the year.
The defense showed some flashes at times (with a handful of strong plays from guys like Mychal Kendricks, Phillip Hunt, and Derek Landri), but Juan Castillo's unit displayed some of the same problems that plagued them a year ago. They couldn't get off of the field on third-downs, and there was a lot of poor tackling going on. Nnamdi Asomugha was particularly disappointing to me. The former Raider looks lost and unsure of himself out there. He blew three coverages that resulted in two Pittsburgh first downs and one touchdown. Normally it would be easy just to write such a performance off since it's just the first preseason game, but this is the kind of effort we saw all too often from Nnamdi a year ago. It's too early to panic about his play, but it is certainly troubling and worth keeping an eye on.
The first team offense accomplished nothing in this game. In two possessions, they managed two three-and-outs. Even though he was only on the field for six plays, Michael Vick still managed to find his way on to the injury report with a thumb contusion.
I was hoping to see signs that Vick had truly changed some aspects of his game, particularly with regarHeds to decision making and taking care of the football. Even though we saw a very limited sample of him last night, he didn't appear to be much different from what he was last year. He was unsettled in the pocket and seemed to lock on to just one receiver without going through his reads properly. These are these are the same poor traits and habits Vick has displayed throughout his entire career.
It's easy to write off the poor performances of the starters because its the first preseason game, but I'm still troubled by it. The Pittsburgh Steelers were in the same boat, but they're starters still showed up and looked like a contending team should in their preseason game.
4. Reserve Defensive Lineman Show Up
Trent Cole, Jason Babin, and Mike Patterson didn't suit up for this game. Cullen Jenkins was taken out of the lineup early with a hamstring injury. But the Eagles had a number of defensive lineman step up and make plays on Thursday.
Phillip Hunt might have been the Eagles' best player on the field. The second-year end made a strong case to lock up his roster spot tonight with a couple of sacks and a forced fumble. Hunt has good size, and is also very quick.
Second-round pick Vinny Curry was living in the backfield, and finished the game with five tackles.
Defensive tackles Derek Landri and Cedric Thornton were both very explosive all night. Each player got regular penetration, and each of them picked up a sack.
Even Brandon Graham had some time to shine in this game, generating a sack and several quarterback hurries.
The Eagles showed tonight just how deep their defensive line is, and that no matter who is on the field, they're going to have a good chance to get to quarterback.
5. Remaining Questions

We didn't get a very good look at DeMeco Ryans or the safeties. I hoped that Ryans' presence would be a little more noticeable right away, I want to see just what he brings to the table on the field.
I need to see much more from Nnamdi Asomugha. He's supposed to be the textbook definition of a shutdown corner, and he hasn't been anything close to that since arriving in Philadelphia. His performance in last night's game was very discouraging, and while I'm not ready to write him off, I need to see something positive very soon.
I'd like to see the Eagles test Clay Harbor much more in the remainder of the preseason. They need to find out if they can count on him or not.
The wide receiver picture is really crowded right now. DeSean Jackson, Jeremy Maclin, and Jason Avant are all locks to make the team, but the remaining positions are anyone's game. Marvin McNutt has had a good camp, but we didn't see anything from him in the game tonight. Damaris Johnson is making a serious push to make this team, and Mardy Gilyard and Chad Hall are in the mix as well. It will be very interesting to see it all play out.
It'll be interesting to see if the Eagles decide to keep a fullback that's currently on this roster. I haven't seen anything from the current candidates that make me feel like they're worth a roster spot.