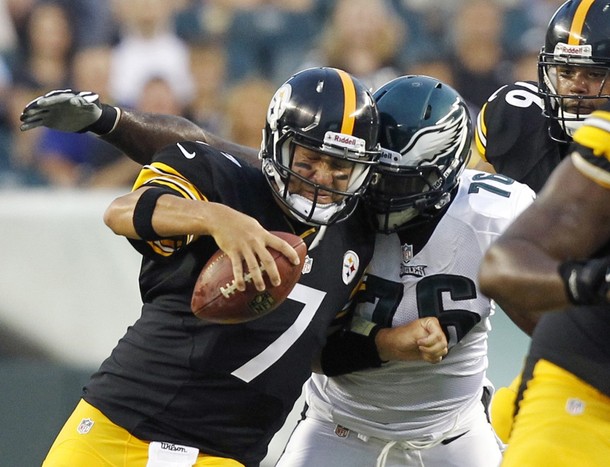 It wasn't exactly the way the Eagles defense wanted to debut by surrendering a long eight-plus minute drive to the Steelers that lead to a score.  The Eagles first-string defense didn't do anything to distinguish themselves last night.  Their third down defense let them down by failing to get off of the field.
On the defensive side of the ball, it doesn't take a genius to see that the strength of the defense is the defensive line.  Defensive line coach Jim Washburn has his crew playing with passion.
Phillip Hunt registered the first sack of the night.  He's been playing like a guy who wants to make it impossible for them to cut him.  He sacked Ben Roethlisberger and later stripped the ball from the hands of Byron Leftwich.
Brandon Graham continued to play with that chip on his shoulder as he contributed a sack and a number of quarterback pressures.  Graham is doing a good job of using his speed to get the big offensive tackles moving then overpowering them on the way to the quarterback.
Derek Landri isn't an imposing looking defensive tackle but he's smart, quick off the ball and an outstanding technician.  It almost impossible for opposing teams to pull a guard in front of Landri because he's so quick off the ball that he gets into the backfield.  With the Steelers driving deep into the Eagles territory, Landri stopped them nearly stopped them by himself.  He made a tackle on first down for a one-year loss, he made another tackle nine-yards in the backfield on a third down.
Prior to that Landri, had flushed Roethlisberger out of the pocket and got in on the sack of the big quarterback.
Defensive tackle Cedrick Thornton seems to have the same attitude as Hunt because he wants to make it impossible for the Eagles to release him.  Thornton is just as quick as Landri is off the ball and he too finds a way to get into the backfield.  The big guy had four tackles and a sack, despite being double teamed most of the time he was in there.
Don't be surprised if the Eagles take their time about bringing back Mike Patterson.
As for the linebackers, I told you that DeMeco Ryans hadn't shown anything out at Lehigh.  Last night, he failed to make an impact as the Steelers offense came out and dominated the Eagles defense.
I did see him make a good hit on a third down tackle with Joselio Hanson to end Pittsburgh's first drive.  I did see Ryans run through on a run play, but he missed the tackle on running back Jonathan Dwyer.
Later on Ryans missed a tackle on a running play where he dropped his head and took his eyes off teh ball carrier.
"It's the first game, the first preseason game," Ryans said. "I'm not going to let that weigh on me. It's too early. We're all going to improve. That's what Training Camp and preseason are for. You definitely look to improve and have better outings than we did, but I'm not going to let those things ruin our night. We won the game and our young guys finished strong. I'm happy about that."
Rookie outside linebacker Mychal Kendricks made a couple of mistakes by losing his coverage on a running back, but he was also very active in getting to the football.  He made a nice play on a screen pass where he made the play in the backfield.
"It looked like he played fast, and I didn't see any hesitation," Reid said. "I think he'll continue to get better with every opportunity he has to play."
The secondary made their share of mistakes.  Dominique Rodgers-Cromartie prolonged a drive by the Steelers by launching at the head of Steelers quarterback Byron Leftwich and getting penalized for it.  He's also going to get fined for the hit, which was a stupid play after the quarterback had thrown the ball.
Safety Jaiquawn Jarrett and cornerback Nnamdi Asomugha got mixed up on a coverage on the goalline which allowed the Steelers to complete a short pass for a touchdown.  The safety has to take over and make a decision there, so that they're on the same page.