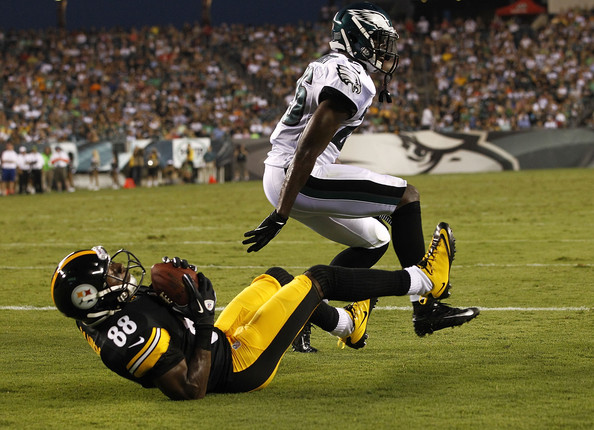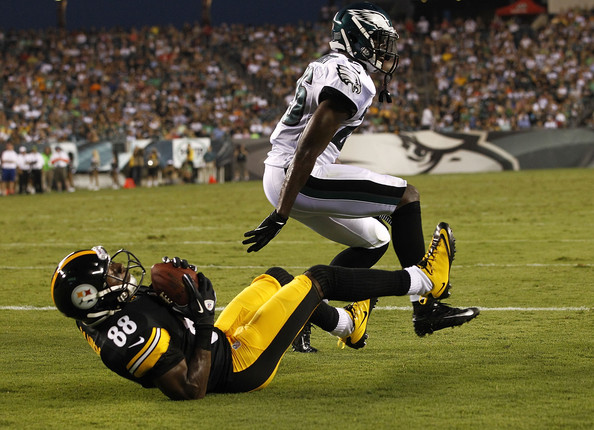 Jaiquawn Jarrett had a huge opportunity. Nate Allen, the starter at strong safety for the Eagles defense was inactive. Jarrett had played a physical breed of football thus far in training camp, so Andy Reid tabbed him to be the starter instead of O.J. Atogwe. With his choice, Andy Reid put a lot of faith in Jarrett. Unfortunately, Jarrett looked like the same lost player that he was in his rookie season.
Jarrett was hesitant, and afraid to make a move many times throughout the game. His closing speed was terrible in coverage, including on the Steelers first touchdown.  He was lined up on the left side, and Emmanuel Sanders streaked across the middle, and Jarrett didn't get there on time. He had no clue where to be on many occasions similar to this throughout the game..
His game was even weak in areas that he's supposed to be strong. Coming out of college he was known as a big hitter, but Jarrett missed too many tackles, some that resulted in big gains by the Steelers. He just couldn't find a middle ground. He was either hesitant, or overpursuing the entire game. On Jonathan Dwyer's 33-yard run late in the 2nd quarter, Jarrett attempted to close in on Dwyer, but missed him terribly and collided with Vinny Curry. He honestly looked like (gulp) former Eagles LB Ernie Sims out there.
To give Jarrett a little bit of credit, SS (FS in a regular defense, but the term is reversed in Juan Castillo's scheme. So SS=FS, FS=SS) isn't his natural position. However, Jarrett didn't impress one bit. I've never seen a natural strong safety miss so many tackles in one game. I just don't think he's ready or big enough for the NFL game.
It's pretty clear to me that after tonight's performance, Kurt Coleman's job security is pretty strong. Coleman played much better than Jarrett last night. Thus far, throughout training camp he's looked even more physical than last year, and has improved on his speed and coverage ability. I would be shocked if Jarrett came close to winning the battle for free safety. It would take a miracle, and I don't think that Jarrett has the skills to pull off one.