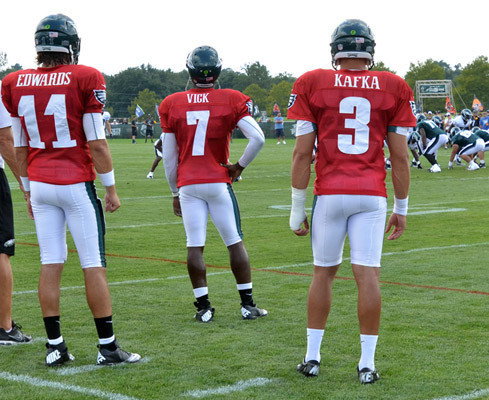 On Saturday morning, the Eagles had some bad news to pass along regarding one of their backup quarterbacks and their offensive line.
Quarterback Mike Kafka has a broken left hand. Someone stepped on the backup's non-throwing hand during Thursday's game, and he will be out for three to four weeks.
Kafka played a terrible game on Thursday, and he will now miss the next three weeks of practice and games. This is a tough break for a player that has a lot to prove to the organization. Now his valuable reps will go to rookie Nick Foles and veteran Trent Edwards. With Andy Reid keeping all of his options open at quarterback, Foles has a chance to convince the coach that he can be trusted as the primary backup, and Edwards has a chance to prove he can be more valuable to the team than Kafka.
Meanwhile, apparently the Eagles haven't liked what they've seen of left tackle Demetress Bell so far. They've benched the former Buffalo Bill in favor of King Dunlap. The reason for Bell's benching isn't clear at this point, but no matter what the reason is, its a very bad sign for this offensive line.
Bell was billed as a quality left tackle who, while not at Jason Peters' level, could come in and keep the offensive line's play at a high level. For the Eagles to lose confidence in him so quickly, and turn things over to Dunlap this soon is alarming. It's very reminiscent of 2009 when the Eagles gave a big contract to Stacy Andrews, only to bench him one game into the regular season in favor of Max Jean-Gilles.
By taking Bell out of the lineup, the Eagles have made it known that the left tackle position is a serious concern, which is bad news for a quarterback like Michael Vick who has a lot of trouble staying healthy.